YK series vibrating screen is mainly composed of motor transmission part, intermediate shaft parts, flexible couplings, exciter components, screen frame components and other parts. It is an important device in the crushing and screening production line.
Working Principle of vibrating screen:
The screen frame is elastically supported on the base (or foundation), the eccentric block is installed on the shaft, and the shaft is installed on the side plate of the screen frame through the bearing and the bearing seat. When the main shaft rotates, the eccentric block rotates, and the inertial force generated by the eccentric block Force the screen frame to vibrate. With the continuous operation of the motor, the screening machine moves on an approximate circular trajectory to realize the screening operation.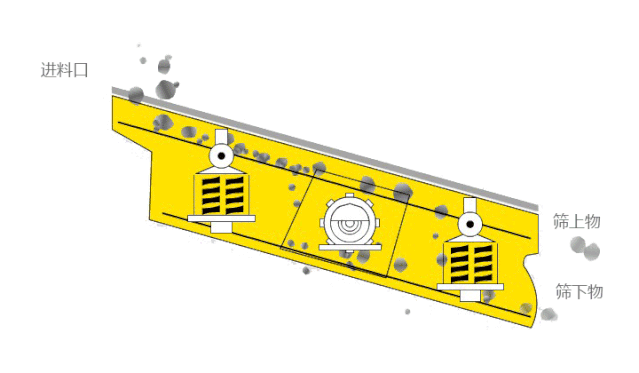 Advantages
1. The structure is advanced and the operation is reliable; the structure adopts the cylindrical vibration exciter and the partial block adjustment device, and the advanced rivet-connected assembled frame structure improves the service life of the equipment.
2. An intermediate transition bearing seat is added to the transmission part. The application of the intermediate transition bearing seat effectively protects the motor and prolongs the service life of the motor.
3. The screening efficiency is high. Due to the strong vibration of the screen box, the phenomenon of material blocking the screen holes is reduced, so that the screen has high screening efficiency and productivity.