Impact crusher is usually used as secondary crusher to crusher the stone which is not so hard such as limestone, barite and construction waste etc. The impact crusher is composed of casing body, rotor and impact plate. Impact crushers use impact energy to crush materials. It is widely used in hydropower, highway, artificial sand and gravel, crushing and other industries.
Working Principle of impact crusher:
Driven by the motor, the rotor rotates at a high speed. When the stone enters the action area of the blow bar, it collides with the blow bar on the rotor and is crushed, and then is thrown to the impact plates to be crushed again, and then bounces back from the impact plate liner. Re-crushing in the action zone of the blow bar, this process is repeated, the material enters the first, second, third impact chambers from large to small for repeated crushing. When the particle size of the crushed stone is smaller than the gap between the blow bar and the impact plate, it is discharged from the lower part of the machine. Adjusting the gap between the impact frame and the rotor can change the output size.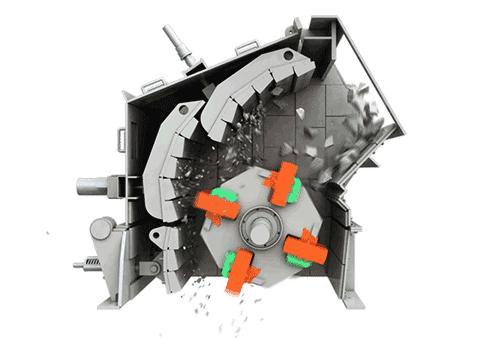 Advantages
1. Low and large feed opening, it is more convenient for the production line selection and bigger feeding size;
2. Unique structure, keyless connection, strong rigidity and large rotor moment of inertia. High chromium blow bar, impact resistance, wear resistance.
3. The crushed stone shape is cubical and round shape. The size of the discharge particle size is adjustable, which simplifies the crushing process.
4. New wear-resistant material for longer life of blow bars, impact plates and liners