Concrete mixer with pump for sale is multiple functional machine with concrete mixing and concrete pumping. Please note that it is a concrete pump which equipped with one more concrete mixer. It is used to mix and pump the concrete mixture by using pressure along the pipeline continuously.
What is concrete mixer with pump for sale?
In the past time, the clients wanted to buy a concrete mixer to produce the concrete firstly, and then he also needed a concrete pumping machine to deliver the concrete to the buildings or jobsites. There will be two machines to finish the job. It required more people for the projects.
As a mature manufacturer of concrete pumping machines, HAMAC designed this series portable diesel concrete mixer with pump which is suitable for different projects. We have two options, one type is equipped with drum concrete mixer, another type is equipped with twin shaft concrete mixer which can mix the concrete uniformly.
It is a new designed versatile concrete machine, one stop solution for concrete mixing and pumping.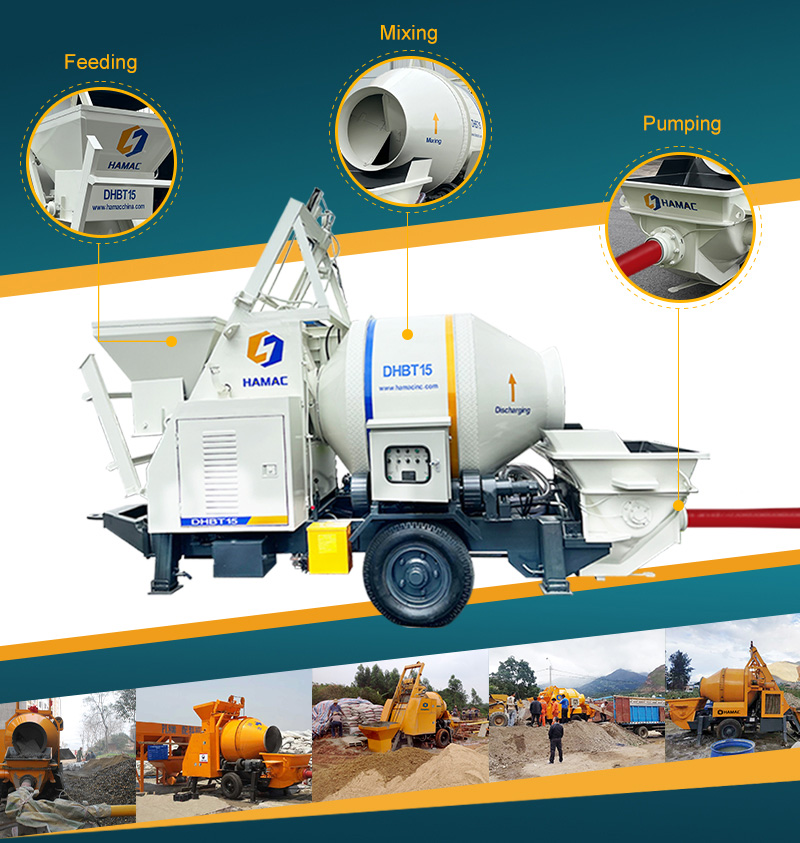 Features of concrete mixer pump for sale
1. It combines mixing and pumping to reduce weight and space;
2. The small concrete mixer with pump is convenient to transport in rural with high efficiency;
3. This model can save much labor and cost;
4. It is easy to operate with remote controller;
Why should you invest on the concrete mixer and pump
Diesel Concrete Mixer Pump DHBT15 Working Efficiency:
Let us suppose 8 working hours per day, it can mix15-20CBM concrete/hour + pump 30~40CBM concrete/hour, one set of diesel concrete mixer pump could mix and pump concrete at least 120CBM, so it can finish 43200CBM concrete mixing and pumping in a year.
Let's halve working hours, the total mixing and pumping volume is 21600CBM concrete per year. Normal service life (HAMAC Concrete mixer pump) is 8 years, that means, the total 'mixing and pumping' volume is 172800CBM. According to our 20 years experiences in concrete pump industrial, One CBM concrete of Mixing and Pumping could bring at least USD8 net profit for your projects. The total profit that you can get is USD1,382,400.00.
The cost of maintenance for 20000CBM concrete of mixing and pumping is about USD600. The total cost of maintenance is about USD5400 for 172800CBM concrete of 'mixing and pumping'. The final profit is USD1,377,000 (USD1,382,400-USD5400). Considering of some uncertain factors, let's cut half of total profit. You final profit can reach USD688,500. So, this concrete mixer and pump can bring high profits for you.
Why choose HAMAC Concrete Mixer pump for sale?
1. The glass plate and cut ring are made from high quality alloy, the hardness is 64HRC(Hardness of diamond is 70HRC);
2. Original SIEMENS PLC, main electric components are provided by OMRON;
3. 62 kW Weichai diesel engine, lower motor power than that of other suppliers. Lower consumption to work, save cost for diesel;
4. 45mm steel plate for the bottom of hopper, much stronger to withstand greater pressure;
5. Compact design, the diesel engine built in the structure frame, smaller and more convenient for moving;
6. Equipped with JZM450 concrete mixer, 750L feeding hopper and 450Lconcrete output per batch, bigger than other companies' mixer; 8mm thickness Q345 steel plate for mixer body, 12mm thickness steel plate for rolling ring; stronger and higher capacity;
7. We adopt the wearable and skid-proof rubber wheel to drive the concrete mixer, its diameter is 380mm which is the biggest in China. It is covered by rubber from Malaysia, more wearable and longer service life;
8. Concrete delivery cylinder is 200mm/230mm diameter, and stroke is 1260mm, bigger and higher capacity; inwall is covered with high chrome, more wearable and longer service life;
A package solution for concrete mixer with pump
For this concrete mixer with pump, it mixes the different sizes aggregates, sand and cement by volume. So, the formula is not so accurate. In order to solve this problem, HAMAC designed an aggregate batching machine which can be moved conveniently as well. There is a computer system inside the control cabin. The client can input the formula of different concrete, then this aggregate machine can feed the accurate weight of aggregate and sand to the concrete mixer. The high quality concrete can be got. Meanwhile, we can supply the small wheel loader to feed the aggregate machines. It is a complete package solution for the concrete mixer with pump.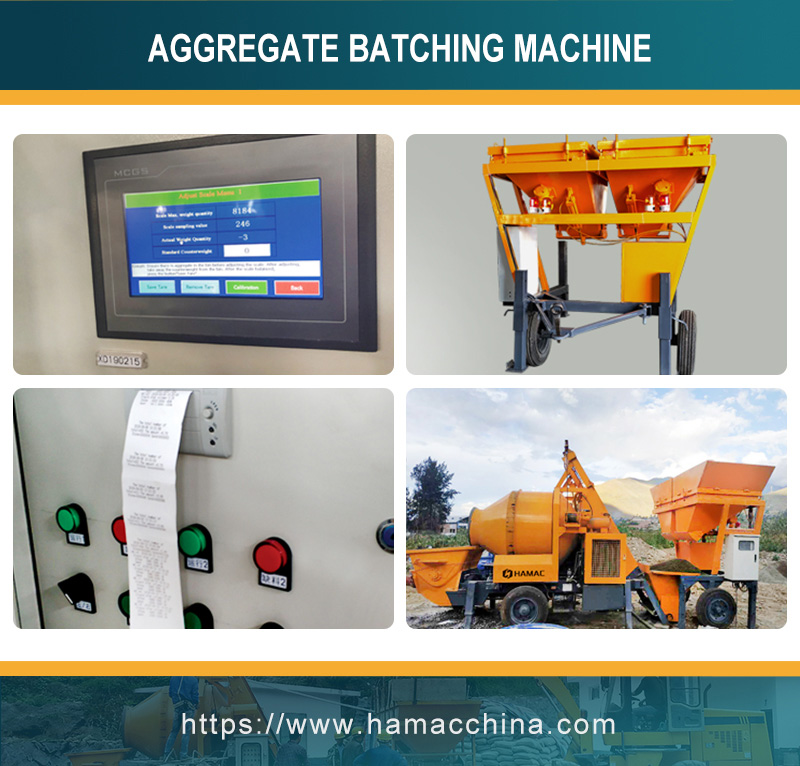 FAQs for concrete mixer with pump
1. How many meters high and far the concrete mixer pump can reach?Our concrete mixer with pump for sale can reach 70 meters high, 300 meters far, it is an actual data for concrete;
2. What is the price of the concrete mixer with pump?It depends on the different models, normally speaking, the price is between 25000-35000USD;
3. How many meters pipes and elbows are included in the quotation?100 meters steel pipe will be included;
4. How can I control the weight of different sizes aggregates and sand, cement, water for the concrete mixer pump?Normally speaking, these different sizes of aggregates, sand and cement were fed by volume, so the weight is not so accurate. If you want to feed the different materials in an accurate weight, you have to use an aggregate batching machine. The water quantity is controlled by the time relay to control the working time of water pump;