How does a mini portable concrete batch plant work?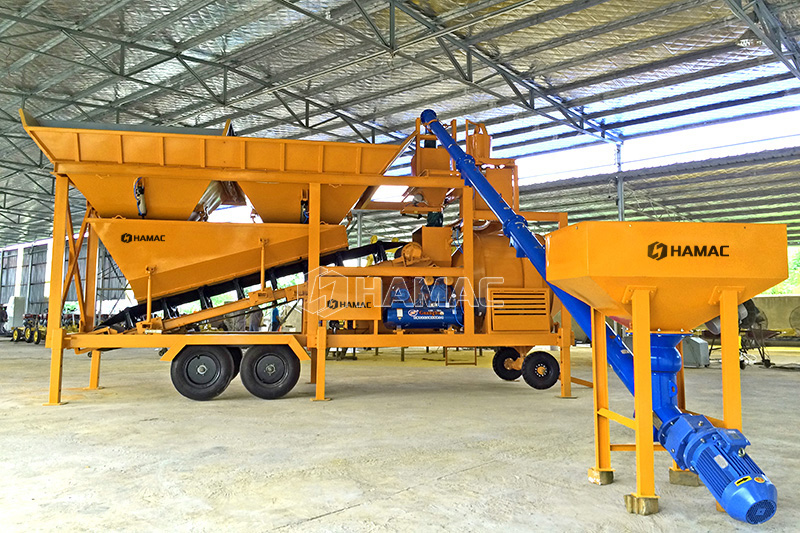 A wheel loader will feed the three different hoppers for different sizes aggregates and sand, and then the aggregates and sand will be weighed by the load cells, and the cement comes from the cement hopper or cement silo by the screw conveyor.
water is supplied by the water pump will be weighed as well by different load cells, then all of these material will be fed into the drum mixer for mixing.
After mixing, the concrete will be discharged into the concrete transit mixer truck or small dumper or trailer concrete pump.
Advantages of portable concrete batchplant
1. The structure is compact, and almost all the processes of concrete production are concentrated on the trailer unit;
2. No need to prepare foundation, it can work as soon as it arrives the working site;
3. Two options concrete mixer, drum type concrete mixer and twin-shaft concrete mixer;
4. It can be fit into a 40ft container for the complete machine;
5. Cement silo or cement hopper can be equipped to this portable concrete batching plant.
6. The price of this portable concrete batching plant is lower, cheaper than the one with double shafts concrete mixer;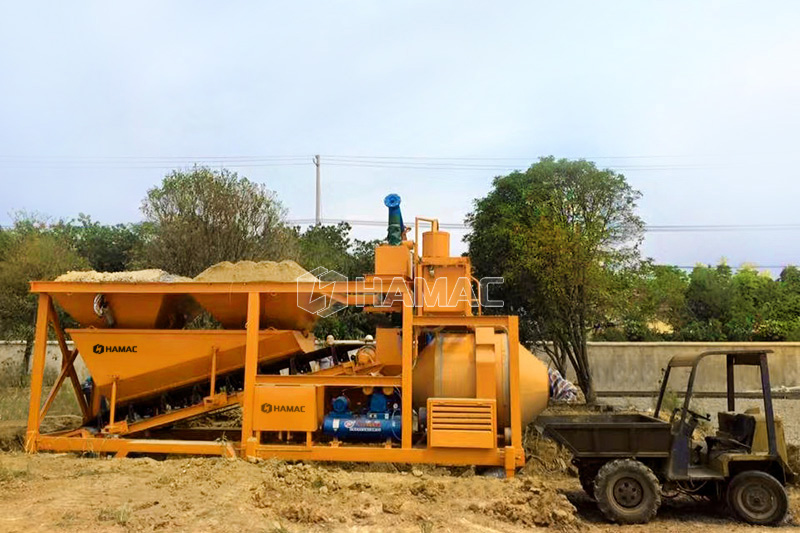 New designed portable concrete batch plant for sale
There is another solution for the small portable concrete batch plant, it is equipped with JS500 twin-shafts concrete mixer, and a belt conveyor to transport the concrete into the concrete mixer truck.
It is suitable for some projects require the concrete more strictly. And we can provide you with a compact full automatic portable concrete batching plant equipped with JS1000 twin shaft concrete mixer. It is a 50m3 portable concrete batching plant.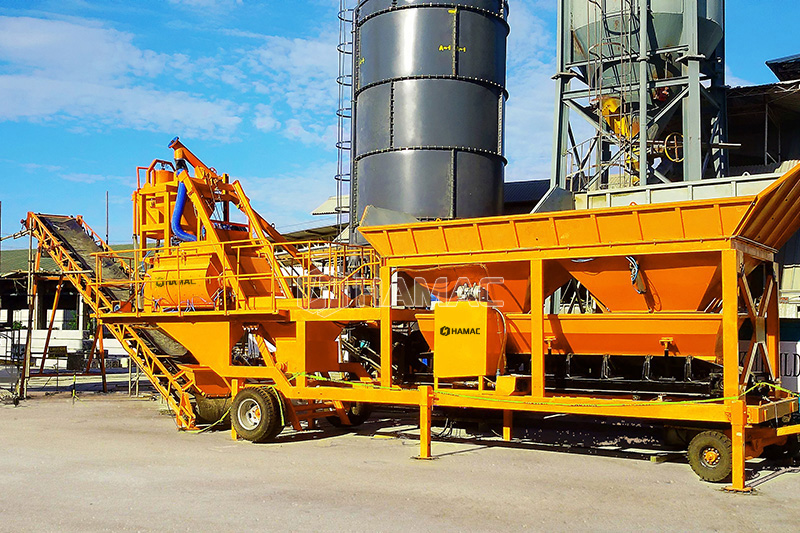 For what projects to use this portable concrete batch plant?
There are many different projects which need different grades and quality concrete, generally speaking, the concrete quality is better if it is batch mixed from the twin shaft compulsory concrete mixer or planetary concrete mixer.
From the drum type batch mixer, the quality is not so good as the concrete from the forced type concrete mixer.
So, normally speaking, for this simple type portable concrete batching plant for sale, it is designed for some simple projects.
Its discharging height is 1200mm only, the concrete will be collected by the small dumper, not truck cement mixer.