YHZS35 Mobile Concrete Batching Plant Works In Arequipa, Peru
In 2019, HAMAC delivered one unit of YHZS35 mobile concrete batching plant to Arequipa, Peru. This clients purchased one unit of concrete batching plant, 2 units concrete mixer truck with SHACMAN chassis and one set of QT4-15 concrete block production line from us.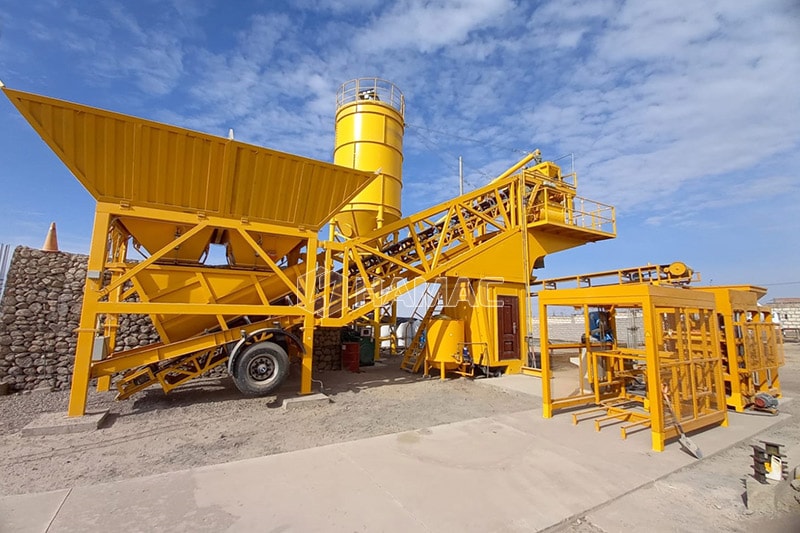 Mobile concrete batching plant and concrete block making machine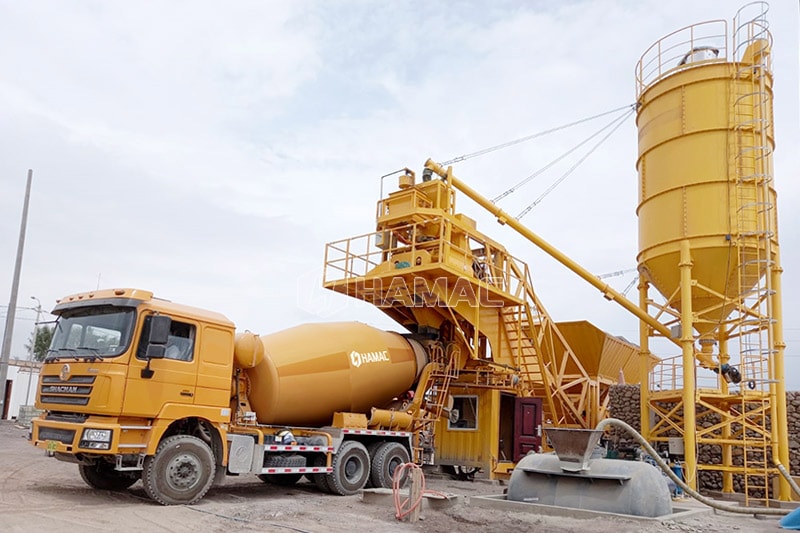 Concrete Mixer truck is collecting concrete from concrete mixer
Detailed information of this mobile concrete batching plant for sale:
Nominal capacity: 353 /h; Aggregate batching machine: 4*73 ; Central mixer: JS750 twin shaft concrete mixer; Cement silo: bolted type, 50 tons ; Control Mode: Full automatic.
For the cement at this site, it is cement in the BIGBAG. So this client purchased one unit of pneumatic cement supplier to blow the cement into the 50 tons bolted type cement silo. The cement will be poured into the cement tank firstly, and then close the cover. The air compressor will work to blow the cement into the cement silo.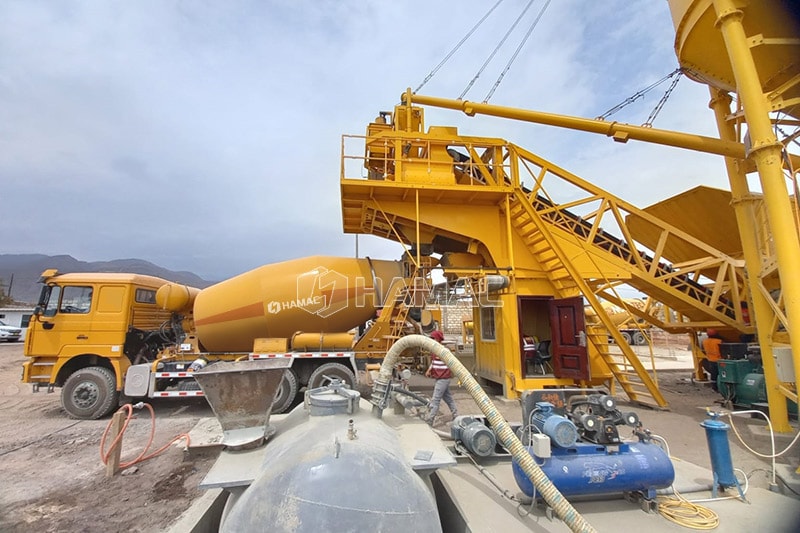 50 tons bolted type cement silo with WAM accessories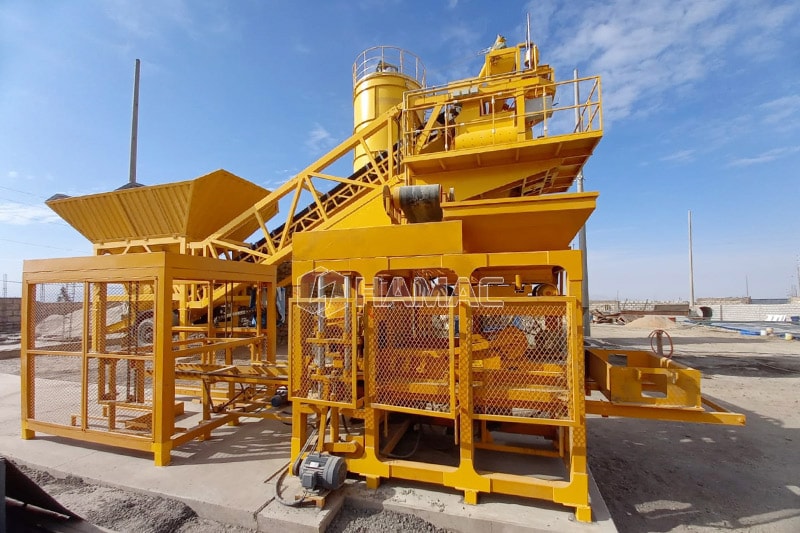 Stationary concrete batching plant fed by backhoe loader
Concrete block making machine works together with concrete batching plant
Normally speaking, for a complete concrete block production line, one aggregate batching machine and one concrete mixer are required to produce the concrete to supply the concrete block production line.
For this working site, the client already has the YHZS35 mobile concrete batching plant to produce the concrete. So it is a waste of money to purchase one more batching machine and one more concrete mixer. Finally we gave this solution to save the cost for our clients.
We put one belt conveyor which will be used to supply the concrete for the concrete block machine. It is movable. When the client wants to sell the concrete to his end customer, the belt conveyor will be pushed away. Then the mixer truck comes to collect the concrete directly. If the concrete block machine works to produce blocks, this belt conveyor will be pulled under the discharge opening of the concrete mixer, and then the concrete will be supplied to the concrete brick production line to produce the concrete blocks, concrete bricks and concrete paver etc. It is an economical design to save the cost for our clients.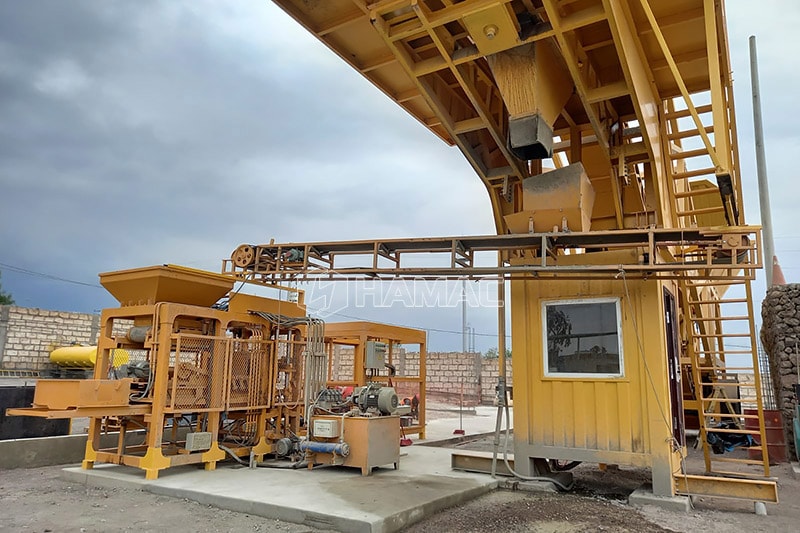 Belt conveyor under the discharge opening of concrete mixer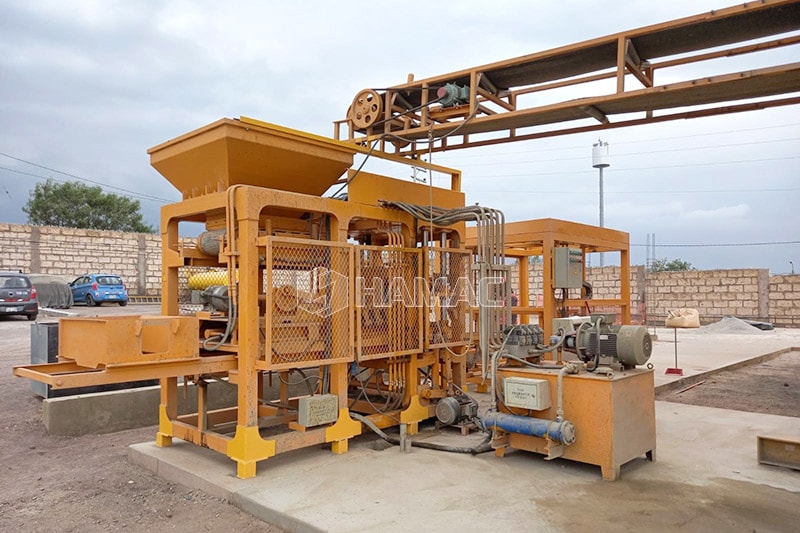 Belt conveyor transfer the concrete into the concrete block machine
If you want to visit this project on site, or contact our client to check the machine's work performance, please contact us: Email:[email protected] WhatsApp:+8615136236223