what is a vertical shaft impact crusher for sale?
VSI crusher AKA Vertical shaft impact crusher for sale. VSI series high-efficiency vertical shaft impact crusher is a high-performance sand-making equipment developed by HAMAC which combined with the actual needs of artificial sand making market and which many technical improvements has been made.
This series combines the unique rotor structure design (hard rock shaping + sand making), excellent wear-resistant material technology, extremely fast crushing speed and unique hydraulic design etc. It has become one of the preferred equipment in the sand making industry.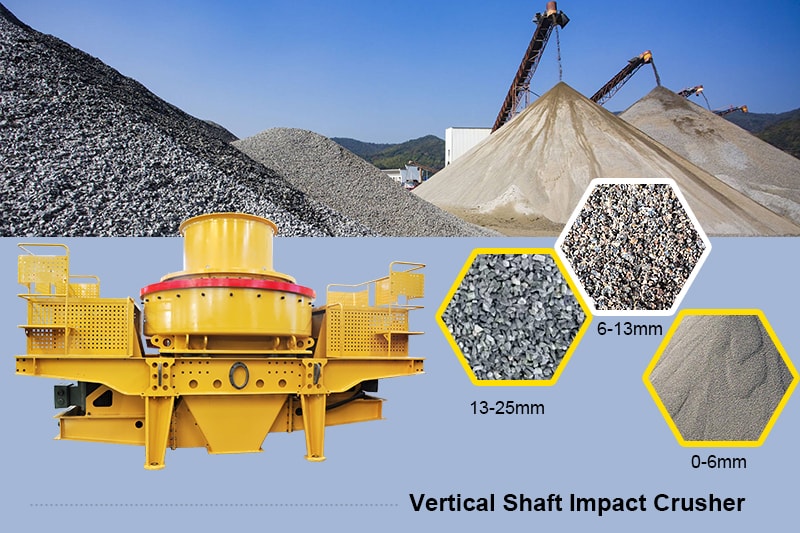 how does a vertical shaft impact crusher work?
The materials drop into the hopper entering the impeller rotated with high speed through the central feeding hole and speeds up fast and casts out of the impellor. Firstly they will be impact with parts of the materials that free fallen after rebounded and then they impact with the impacting plate around the vortex cavity. Together they will be rebounded to the top of the crushing chamber, and then change the direction upward to right downwards and form continuous materials screen with the materials which are cast our from the impeller flow way plate. At last, the final products will be discharged from the outlet.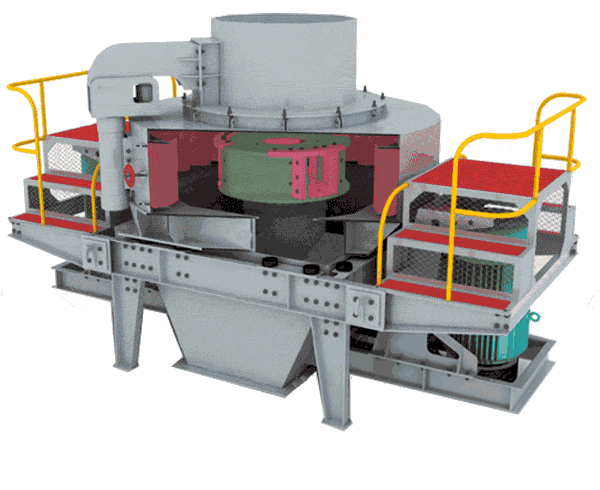 Advantages of VSI crusher
1. Rotor with deep chamber increases 30% capacity after perfect design.
2. Side plate direction can be changed to increase material utility ratio, operating ratio can be increased 48%.
3. Wearable hammer with combined type is only changed to reduce operating cost 30%. Another pair of vice hammer is added to prevent from damaging main hammer and side plate.
4. The most key wear resistant material uses wear resistant and high temperature resistant material in American important area.
5. Rhombus shape impact plate is used to prevent side plate from being damaged.
6. Bearing is famous international brand imported from Japan, Sweden, US etc.
7. Perfect discharge and smooth curve reduce resisting force when material flows, so capacity is increased greatly.
8. Spread dish with double purposes can make two feeding ways change easily.
9. Special seal structure under main shaft guarantee no oil leak without seal.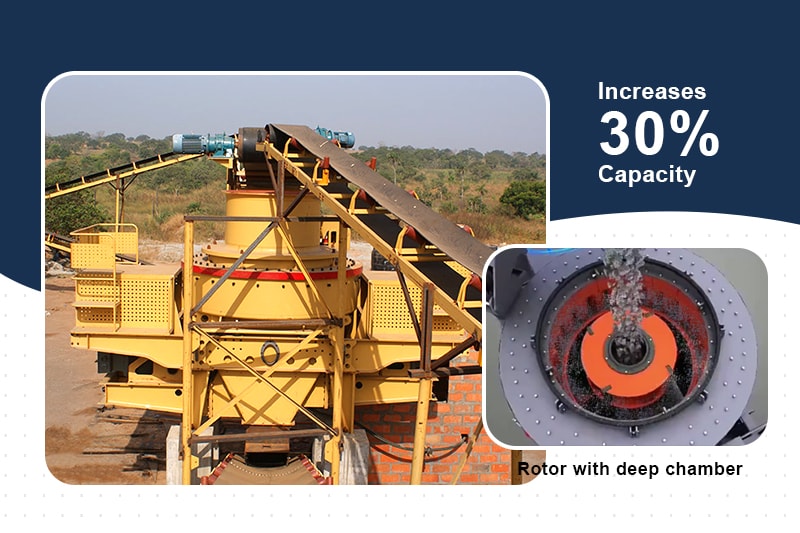 Why you want to use a Vertical shaft impact crusher?
Nowadays, so many construction projects are undergoing. Although there are a lot of natural sand in the river, however it will be gone one day. And it is not friendly to environment if too much natural sand is exploited. Artificial sand must be a trend in the process of country development. In order to solve this problem, a vertical shaft impactor is recommended to you to make the artificial sand.
Another usage of vertical shaft impact crusher, it is used to adjust the shape of aggregates and sand, make them to cubic shape or round shape. For the high quality concrete, it requires the best proportion for different sizes aggregates and sand. So if the aggregate and sand is cubical shape or round shape, the gap between different sizes stone will be smaller.
That means, less cement is required for the concrete. Extra cost for the cement can be saved. If the aggregates and sand is slice shape, the gap between different aggregates can be too big. That means, if you want to produce the same tolerance pressure concrete, you have to use more cement to fill the gap. The cost will be higher. So, for the long-term consideration, if the crushed stone was processed by the vertical shaft impact crusher, and then for the concrete usage, it will save a lot cost on the cement.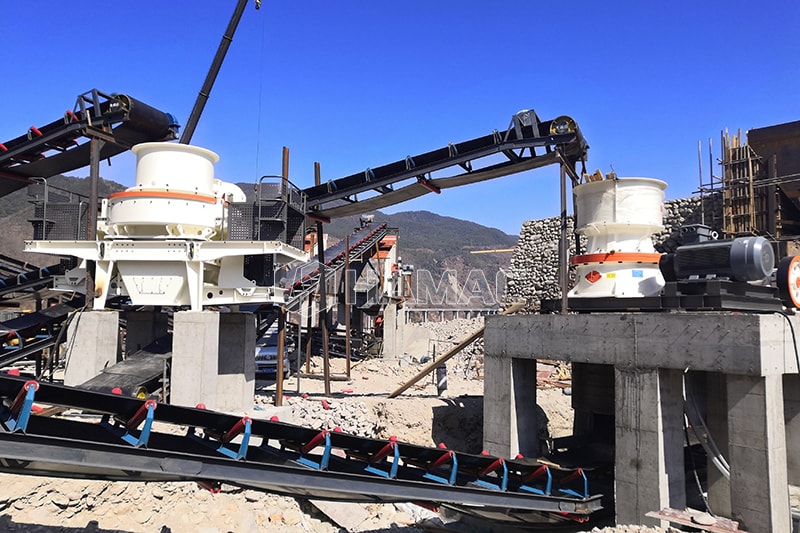 HAMAC can provide you with a complete solution for the artificial sand making and shape adjustment of aggregates and sand.
Different usage of VSI crusher
The VSI sand making machine can be used to process many different kinds of materials, hereby we list it clearly one by one. Then you can see if it can be used in your business.
1. Artificial sand making of river pebbles, mountain stones (limestone, granite, basalt, diabase, andesite etc.), ore tailings, and stone chips.
2. Water conservancy and hydropower in the engineering field, high-grade highways, expressways and railways, passenger dedicated lines, bridges, airport runways, municipal engineering, machine-made sand production and stone shaping of high-rise buildings.
3. Production of building aggregates, road fabrics, cushion materials, asphalt concrete and cement concrete aggregates.
4. The fine crushing process before grinding in the mining field, and the material crushing of building materials, metallurgy, chemical industry, mining, refractory materials, cement, abrasives and other industries.
5. High abrasiveness and secondary disintegration and crushing, desulfurization in thermal power and metallurgical industries, steel slag, construction waste treatment and other environmental protection projects.
6. Production of glass, quartz sand and other high-purity materials.