Introduction to Single Cylinder Cone Crusher
Single cylinder cone crusher is suitable for the crushing various minerals and rocks whose Platt's hardness are less than 16, such as iron ore, copper ore, gold ore, manganese ore, nonferrous metal ore, granite, limestone , quartzite, sandstone, pebbles, etc.
SCC series hydraulic cylinder cone crusher collects mechanical, hydraulic, electrical, automation, intelligent control technology into one set, and represents the world's most advanced crushing technology.
Working Principle of hydraulic cone crusher
SCC single-cylinder hydraulic cone crusher is mainly composed of upper frame body, middle frame body (medium crushing type), lower frame body, moving cone part, eccentric sleeve part, transmission part, hydraulic cylinder part and other components.
When working, the motor drives the horizontal shaft to rotate, the horizontal shaft drives the eccentric sleeve to rotate through the gear, and then the eccentric sleeve drives the moving cone to swing in a circle, so as to continuously squeeze and crush the stones.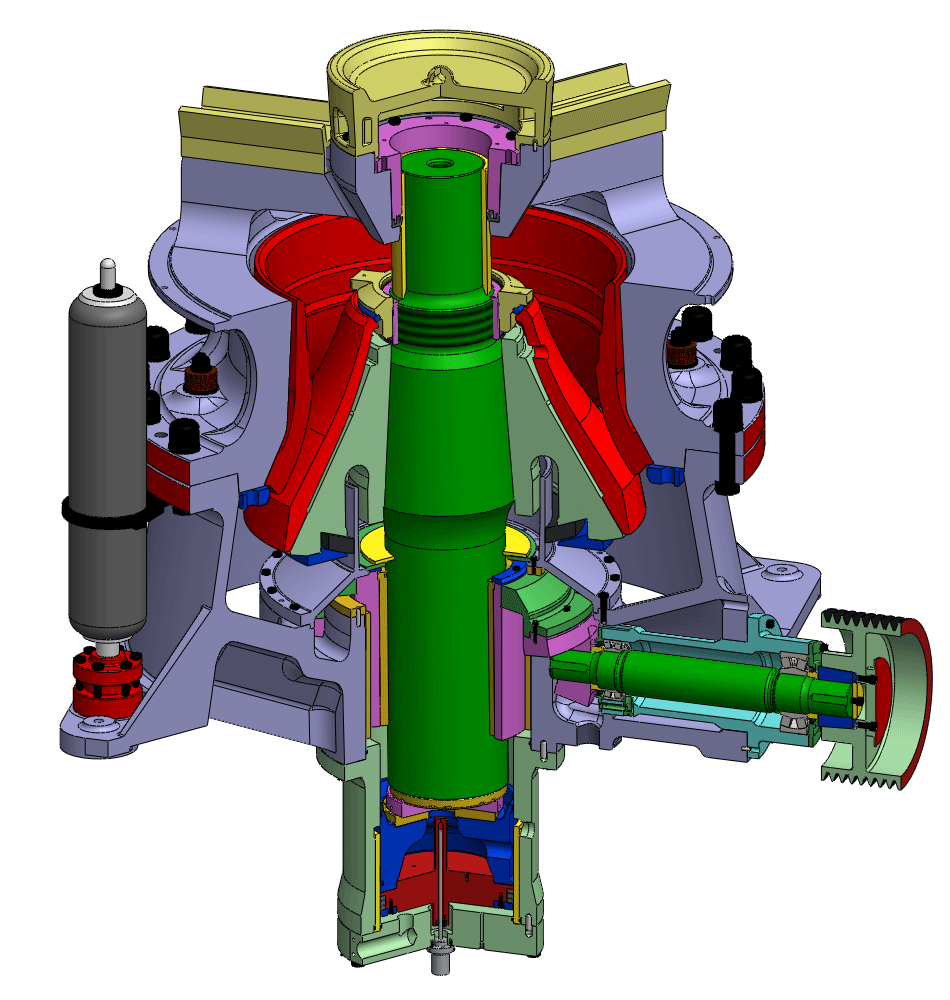 Single Cylinder Cone Crusher Features
1.Optimized design of crusher body and cavity, Enhanced frame structure design, non-destructive testing and acceptance of key parts, higher body strength and more reliable operation. The optimized crushing cavity design ensures that the crushing efficiency of the lamination is high, and the crushing effect of the equipment is not affected by the wear of the lining plate.
2.Switch between multiple modes at will; the automatic control system provides users with various control modes such as manual control, automatic load, automatic discharge port and automatic double discharge port;
3.The positive pressure dustproof system keeps the internal pressure of the crushing chamber higher than the external pressure, which effectively reduces the dust or other fine particles entering the crushing chamber to pollute the lubricating oil, damage the bearings, improve the service life of the crusher, and reduce the maintenance workload;
4.Integrated hydraulic lubrication station, the integrated design of the hydraulic station and the lubrication station saves installation space; the hydraulic system is designed with high pressure to meet the general pressure requirements, and the equipment has a high pressure margin during operation, which improves the reliability of the hydraulic system.