Brief introduction of asphalt mixing plant
Asphalt mixing plant, also known as asphalt concrete mixing station, refers to a complete set of equipment used for mass production of asphalt concrete, which can produce asphalt mixture, modified asphalt mixture, and colored asphalt mixture. It is a necessary equipment for roads, airports, ports making.
Hotmix asphalt plant is mainly composed of batching system, drying system, combustion system, hot material lifting, vibrating screen, hot material storage bin, weighing and mixing system, asphalt supply system, powder supply system, dust removal system, finished product silo and control system etc.
Features of HAMAC asphalt mix plant
1. Exquisite modular design and integral steel structure foundation, the layout is more reasonable, and the disassembly-transportation-installation is faster and more convenient.
2. Skirt-type feeding belt ensures more stable and reliable feeding.
3. The special design of the drying drum material plate and the advanced self-developed combustion heating technology improve the efficiency and reduce the energy consumption.
4. The plate chain type hot aggregate and powder lifting design improves the service life of the hoist.
5. The asphalt mixing station is designed with a high-level hot aggregate silo to increase the storage capacity of the hot aggregate silo, without the need to wait for materials and increase the output.
6. Using the world's most advanced pulse bag dust removal technology, the dust emission is lower than 20mg/Nm³, which is in line with international high environmental protection standards.
7. Automatic/manual control system, with fault self-diagnosis feedback program, simple and stable operation.
8. The optimized design and the hard tooth surface reducer with high conversion rate are adopted at the same time, and the energy saving efficiency is high.
9. The core components use foreign products, such as Siemens motors and electrical components, EBICO burners, Swiss METTLER TOLEDO load cells etc, which reduces the failure rate of the equipment and prolongs the service life of the equipment.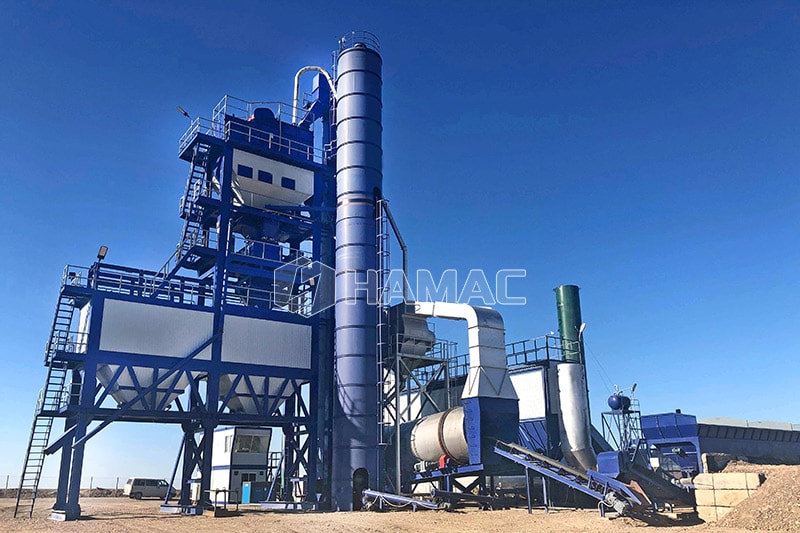 Asphalt batch mix plant for sale VS asphalt drum mix plant for sale
There are two different types of asphalt mixing plants for sale, they are designed for different application and clients.
1. Asphalt batch mix plant for sale, it is equipped with batch type mixer to mix aggregates, additive powder and bitumen to bituminous concrete. Because its mixing is compulsory, the quality of its final product is good for some highway road, airport runway;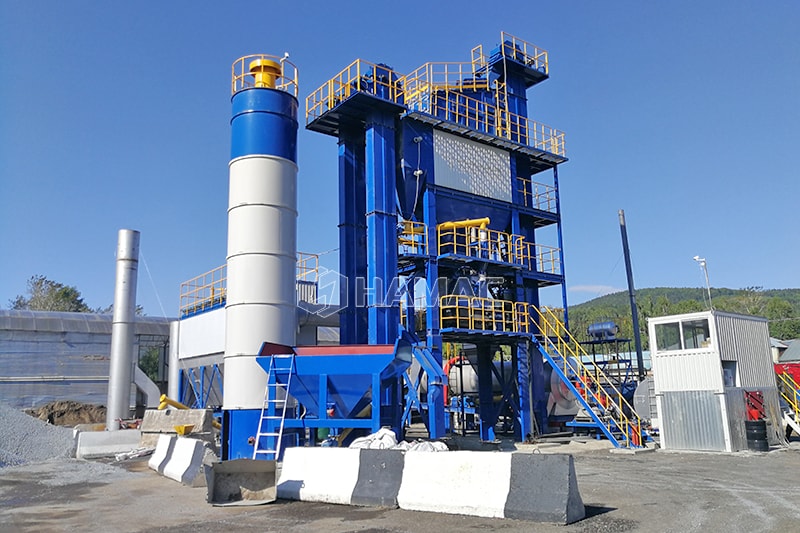 2. Asphalt drum mix plant for sale, there is not a mixer for this hot mix asphalt plant. It mixes the aggregates, additive powder and bitumen in the rotary dryer directly under the force of gravity. So it is continuous asphalt mixing plant, its mixing is not so good as the batch type mixer. Normally speaking, it is usually for some small projects such as country road, sideway;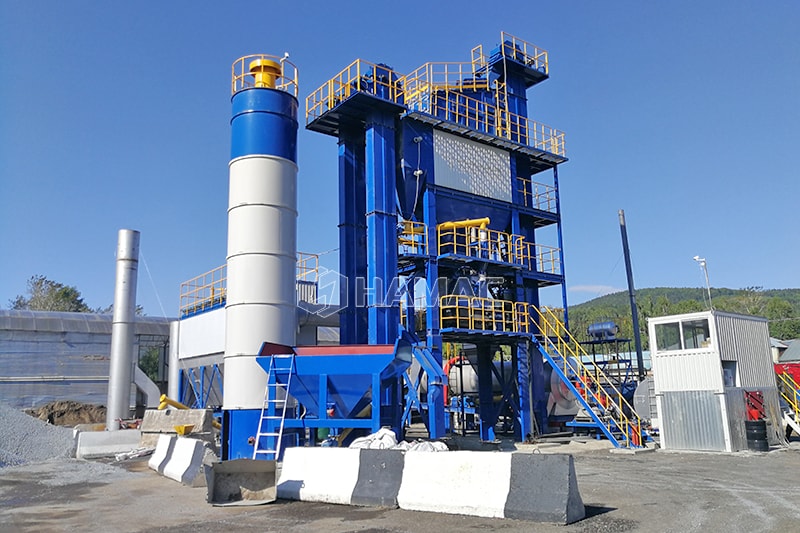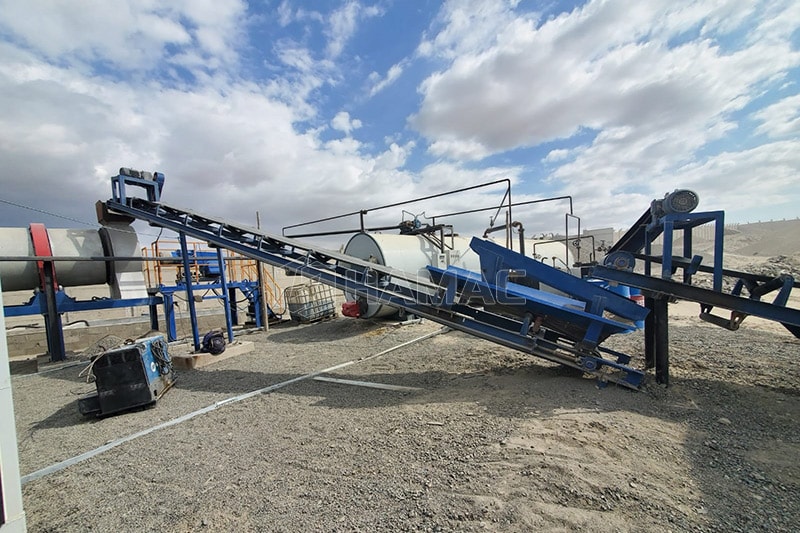 3. For the same capacity asphalt hot mix plant, the batch asphalt mixing plant is more expensive than drum mix asphalt plant;
Types of China asphalt mix plant
1. stationary batch asphalt mixing plant for sale
2. stationary continuous type asphalt mixing plant for sale
3. mobile asphalt batch mix plant for sale
4. mobile asphalt drum mix plant for sale
5. mini asphalt mixing plant for sale
What is the asphalt mixing plant price?
As an asphalt mixing plant manufacturer in China, HAMAC can provide you with various types of asphalt mixing plant for sale. If you want to know the price of hot mix asphalt plant for sale, the below information must be provided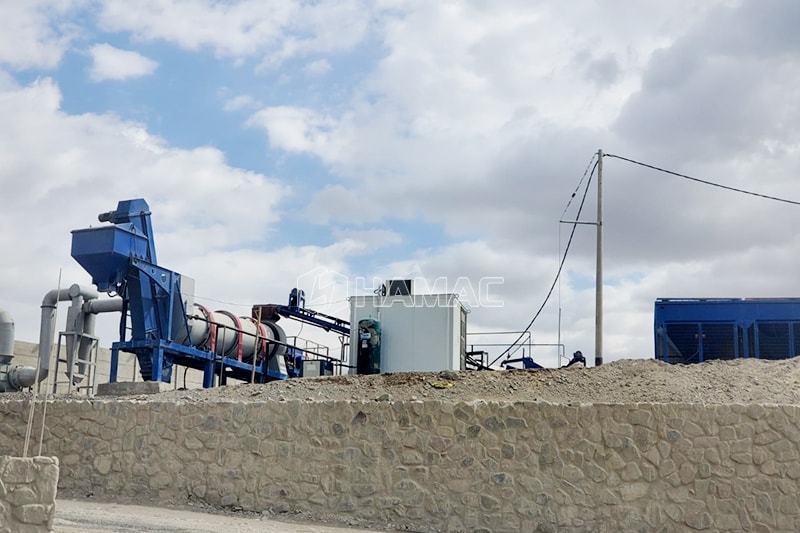 1. How many different kinds of cold aggregates you want to mix?
2. Which kind of project the hot mix asphalt plants will be used? Then we will see which type of asphalt mixing plant will be used.
3. How far it is from the working site to the position of hot asphalt mixing plant? Then we will see to recommend you mobile type or stationary type
4. Capacity. How many tons per hour you want to supply to the working site?
5. What is the fuel you will use for the asphalt mixing plant China? Natural gas, diesel or coal?
6. The way to control the dust to protect the environment. Water dedusting or filter bag dedusting.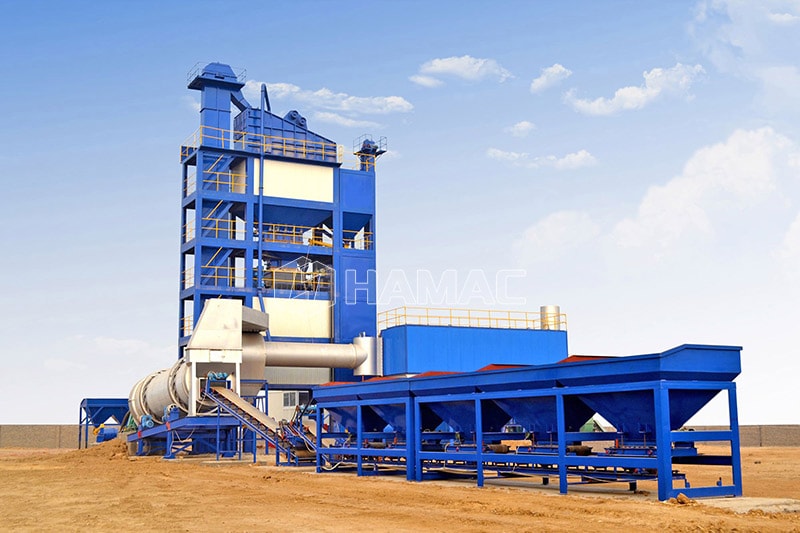 After we get these information, we can recommend you a suitable asphalt mixing plant and send you an exact asphalt mixing plant price.