What is a trailer concrete pump?
Let us see its name, trailer concrete pump for sale, it is mounted on a trailer, and it is used to pump the concrete to high rise building. When it is towed to the working site, one small truck is used to load the delivery pipes and then tow the concrete pump.
Because it is different from the concrete line pump for sale and concrete boom pumps for sale, it can not move by itself.
So, it is also called stationary concrete pump or static concrete pump.
We have two different types of this concrete pump trailer. One type is diesel engine driven, the other is electric motor driven.
It is the most popular and hot sale stationary concrete pump in the world.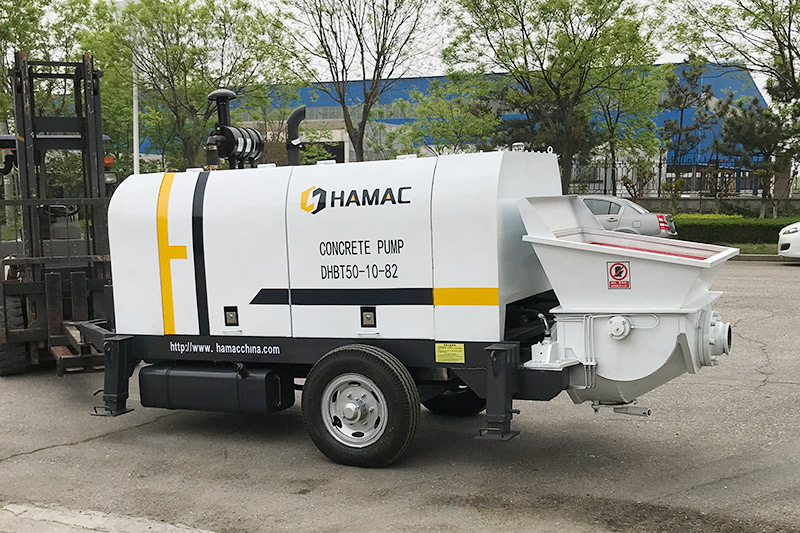 The naming rules of diesel concrete pumps are as follows, for example, DHBT60-13-129, D means diesel engine, 60 means the capacity is 60m3/h, 13 means the outlet pressure is 13Mpa, 129 means the diesel engine power is 129kW. Some factories also named it as HBT60S, this "S" means it is S valve which is a key part of ready mix pump.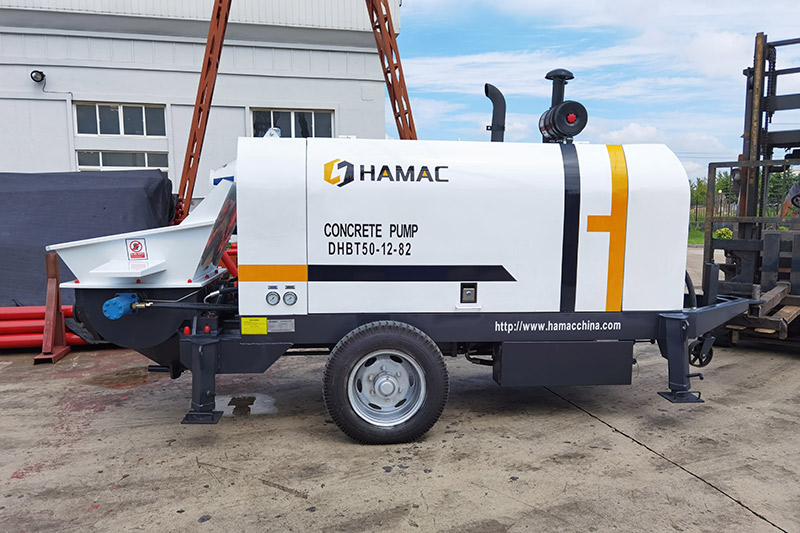 Features of portable trailer concrete pump
Power supply system:For diesel type, power system adopts YUCHAI, Weichai-Deutz or Cummins diesel engine; for electrical type, it adopts well-known domestic and foreign brands motors such as WANNAN, MENGNIU, Siemens Beide motor etc;
Radiator:adopts the air-cooled plate-fin radiator to ensure that the system of diesel concrete pump could operate in a maximum temperature allowed.
Hydraulic oil pump:the main oil pump is from Kawasaki, the valves from Huade or OM from Italy;
Lubrication System:Centralized lubrication system adopts progressive distributor which supplies every lubrication point with oil in turn, and the lubrication time can be set to timing. So, the oil filling is accurate, and oil quantity can be saved;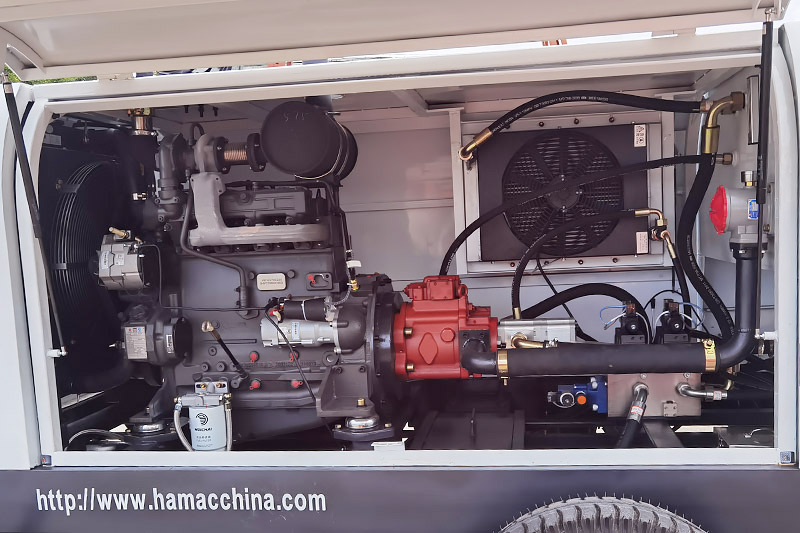 Electrical parts:Main electrical components are from Schneider, OMRON or SIEMENS, the reliability of the electronic control system is highly improved;
S Tube Valve:The valve is casted from manganese steel, the wearing surface is processed by wear-resistant materials lead to it is anti-high pressure and anti-wear;
Glasses plate cutting ring:glasses plates and cutting ring is made from anti-wearing alloy which is long-term service life;
Hydraulic Rubber Hose Joints:Equipped with word-famous parts to ensure the safety of the hydraulic system, no leakage.
Electric trailer concrete pump VS Diesel trailer concrete pump
There are two types trailer concrete pump which are manufactured by HAMAC. These two models concrete pump trailer for sales are suitable for different working condition. The client can compare their features and then decide which type concrete pumping machine is more suitable for your projects.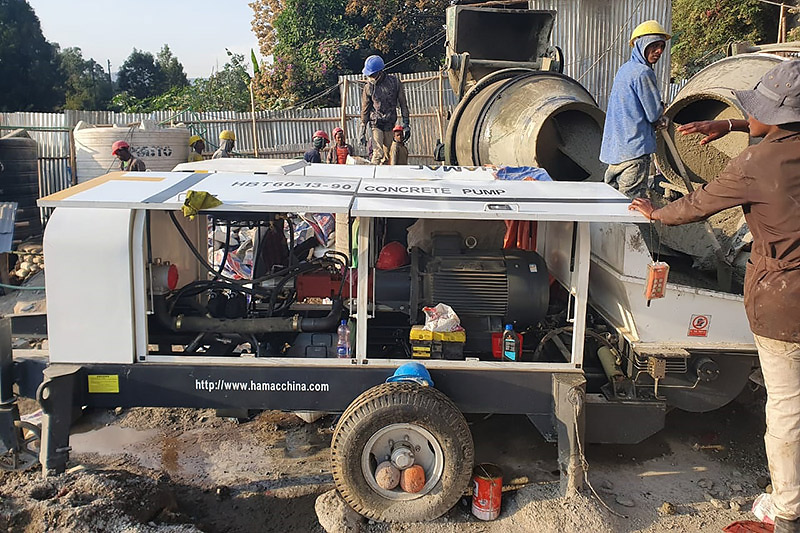 1. Electric concrete pump trailer is driven by industrial electricity, it is 3 phases. That means, there should be a 3 phase power supply at site. Some clients did not notice this and purchased an electric type concrete trailer pump, finally they found that they need to prepare a transformer at a high cost;
2. Diesel trailer concrete pump is driven by diesel engine, it can work everywhere as long as there is diesel;
3. Electric towed concrete pump is with low noise when it is working and no pollutants are emitted into the air;
4. Diesel concrete pump for sale is with relatively loud noise, and the pollutants are emitted into the air;
5. If the same model, diesel concrete pump trailer is more expensive than the electrical concrete trailer pump;
6. For the diesel trailer concrete pump, you have to maintain the diesel engine frequently, but for the electric type trailer cement pumps for sale, no need;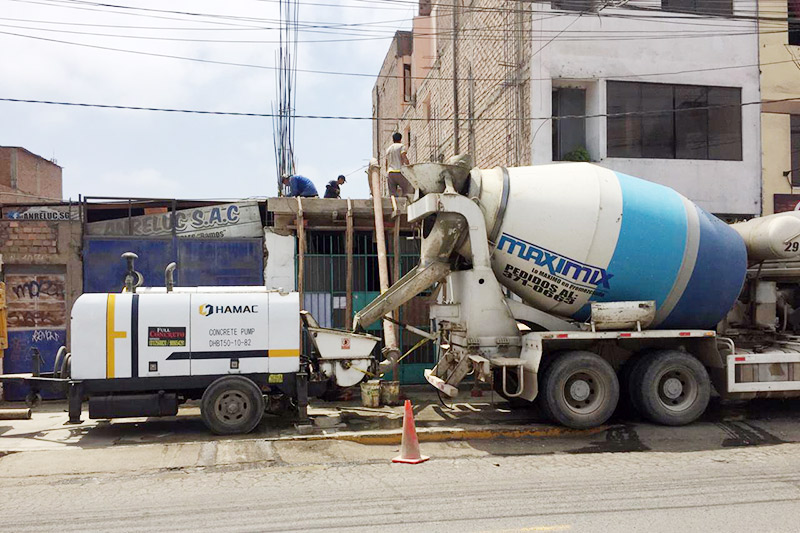 So, you can consider the above factors of these two types stationary concrete pump trailer and finally to buy trailer concrete pump.
According to our experience, the diesel type concrete trailer pump is more popular. 90% clients will choose this one.
Because it can work everywhere no matter there is power supply or not. Actually, it is a non-road diesel engine, there is not strict requirement for the environment protection.
Vertical height and horizontal distance that trailer pump can reach
The pumping horizontal distance and vertical height of the concrete drag pump are related to the concrete grade and the outlet pressure of the trailer concrete pump. Generally speaking, the higher the concrete grade is, the smaller horizontal distance and vertical height will be. The outlet pressure of concrete pumps depends on the design of different manufacturers and models.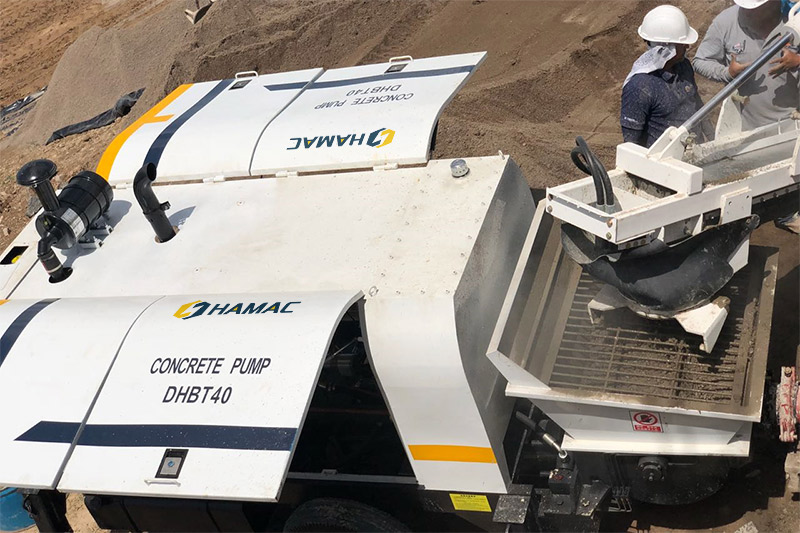 The common concrete grade is generally C30. The DHBT40-10-82 concrete pump trailer produced by HAMAC can reach a vertical height of 70 meters and a horizontal distance of 300 meters. The requirement is that the maximum aggregate size in the concrete should not exceed 40 mm, and the output can reach 40 cubic meter per hour.
We can supply different models of stationary concrete pumps with different heights and horizontal distances. Contact us to get our technical guidance.
How to select a suitable trailer concrete pump?
There are several tips for you as reference:
1. The maximum aggregate size in the concrete will be pumped.It is an important factor to be considered. Because for some small concrete pumps, they are only can be used to pump the concrete with maximum 20mm aggregates or smaller than 20mm. It is not a good option if you want to pump different grades concrete with different sizes aggregate. For some concrete, the maximum aggregates size will reach 40mm;
2. The maximum height and horizontal distance you want to pump.Normally speaking, for the technical data of most of the companies who sell the concrete pump, the delivery height and horizontal distance are based on pumping water under ideal working conditions. So, you have to provide the actual height and horizontal distance when you want support from us. We can also recommend you different length of steel pipes and rubber hose which will be attached to the concrete pump;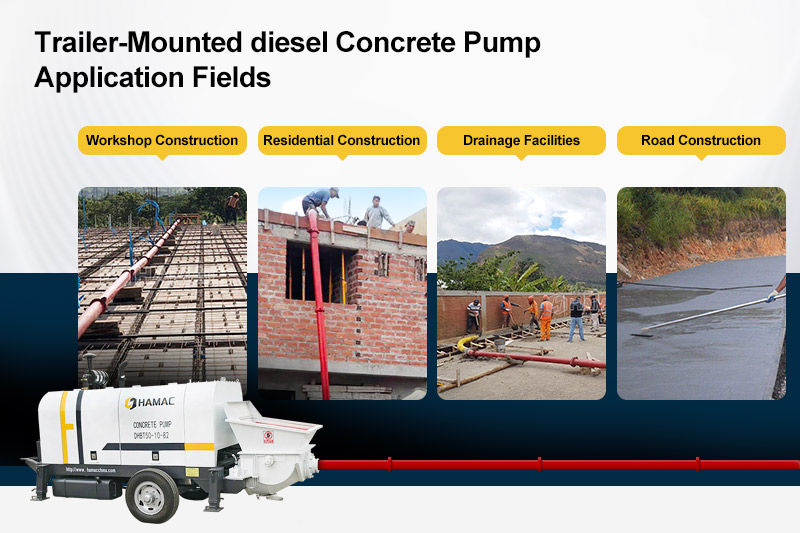 3. The capacity.That means how many cubic meters per hour you want this concrete pump to process. Based on the capacity, we will decide small concrete pump or big concrete pump is suitable for you;
4. Altitude of jobsite.The work performance of diesel engine or electric motor will be affected if the altitude is too high. The trailer concrete pump for sale will be equipped with bigger motor or diesel engine according to the altitude of jobsite.
5. The trailer concrete pump is for your own projects or for hire?After collecting the information above, we can recommend you a suitable concrete trailer pump for your projects or for hire.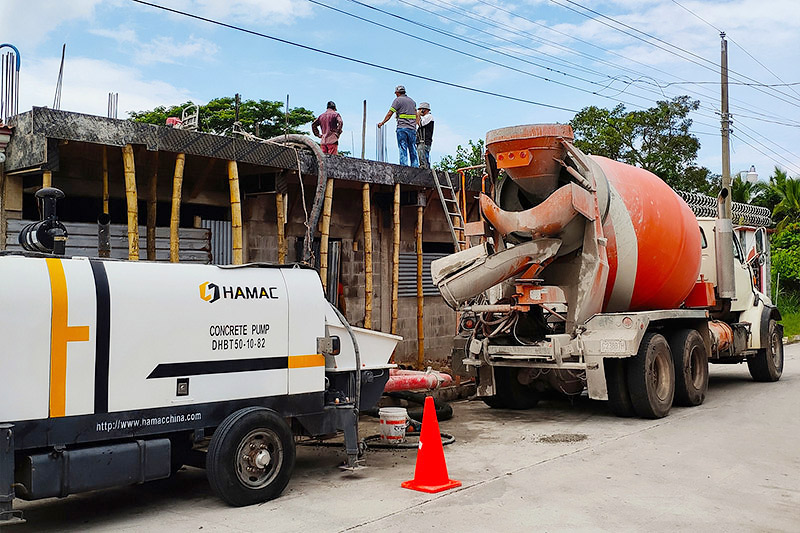 What is the price of trailer concrete pump for sale?
As a mature manufacturer of concrete pumping machines, HAMAC designed this series trailer concrete pump which is suitable for different projects. It is equipped famous brand components such as electric motor, diesel engine, hydraulic oil pump, valves,seals and hose etc. This concrete pump machine can be used to pump the concrete with maximum 40mm aggregates. It is also called S valve type trailer concrete pump.
For the concrete trailer pump for sale, HAMAC can provide you with different models with capacity from 30m3/h to 90m3/h, and the length of steel pipes, rubber hose are different either. So, the price of different types concrete pump trailer for sale is also different.
We would like to know your exact requirement, and recommend you a suitable concrete pump machine. Then give you a best price for the concrete pump.