Clients' Working Site
This series of mixing plant adopts the semi-pulling structure with running system and standard coupling pin included. It can be dragged by trailer. Without foundation and commissioning enables convenient transportation, the mixing plant can be divided into several standard modules, and then be packed into containers.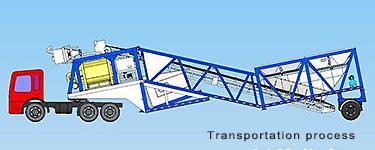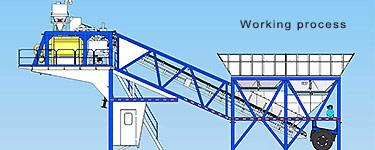 Advantage
1. Adopting module structure, designed as per the loading of container standard. All modules are in one trailing unit. Easy for installation and disassembly. Fast for moving.
2. Main mixing unit is JS1000 double-shaft, forced concrete mixing mixer, with good mixing quality, high production efficiency. Perfect mixing can be done within ideal time period for dry-hard, half-dry-hard, plastic and concrete with any mixing ratio.
3. All scaling elements and control elements of scaling unit are imported elements and controlled by computer, guaranteeing completely accurate scale and stable function.
4. Platform or ladder is equipped to each part needing maintenance and repairing. Good for maintenance.
5. The whole system adopts complete automatic system via computer, with dynamic panel display, to show clearly of the running of each part. Visualized monitor interface provides clear and accurate observing to the site working procedure. Table or list can be print out.
6. Electrical control system adopts import elements, providing a stable and powerful function. Automatic test for the abnormal working condition, Word, sound, light alarm, easy and good for the maintenance and trouble shooting.
Concrete Mixers
Concrete Batching Plant
Concrete Conveying Plant
Related Concrete Equipment
Concrete Block Making Plant