Concrete hollow block production line
Hollow concrete block making machine is used to produce various dimension concrete hollow blocks, concrete pavers. There are many different concrete block making machine manufacturers in the world. They can provide different types of concrete block machines such as egg laying mobile concrete block machine, stationary concrete brick machine.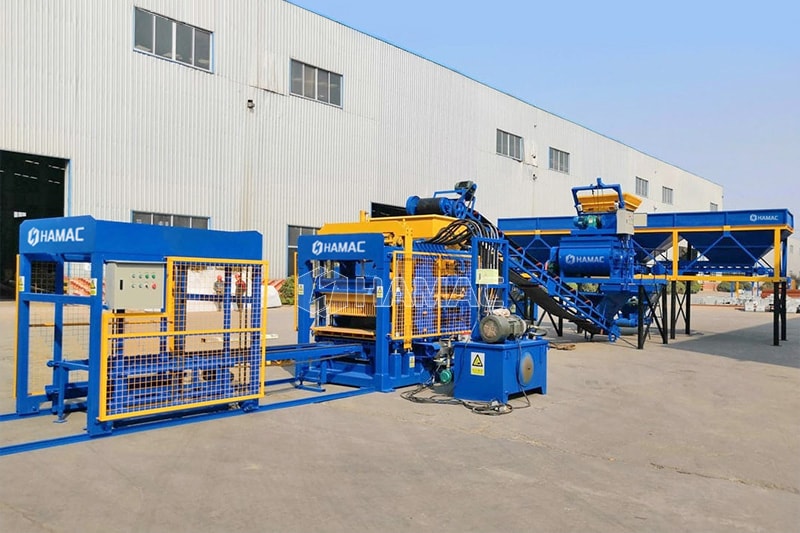 A concrete block production after installatione
How can you make the concrete blocks?
A fully automatic concrete block making machine production line includes aggregate batching machine, JS twin shaft concrete mixer or JQ pan mixer or planetary concrete mixer, concrete block making machine, automatic stacker and pallet feeding machine as options.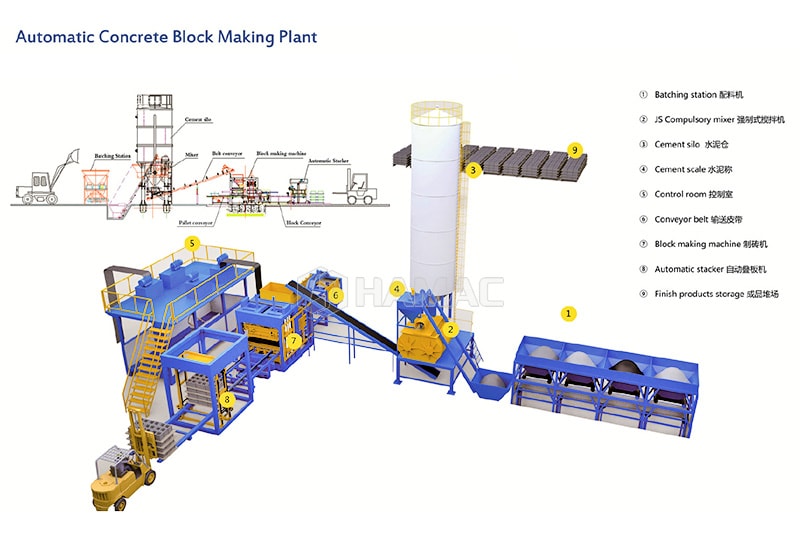 Flow Chart of concrete block production line
1. Aggregate batching machine
It can deliver the aggregate and sand to the concrete mixer after weighing according to the pre-set concrete formula, so as to produce high-quality concrete.
2. Concrete mixer
It is used to produce the concrete which is suitable for concrete blocks. For this kind of concrete, it is different from the common wet concrete. It is a little dry. The planetary concrete mixer is the best choice. But its cost is high. So for most of the clients, if their budget is not so high, the JS twin shaft concrete mixer is also an alternative. It is widely used for many clients to produce the concrete;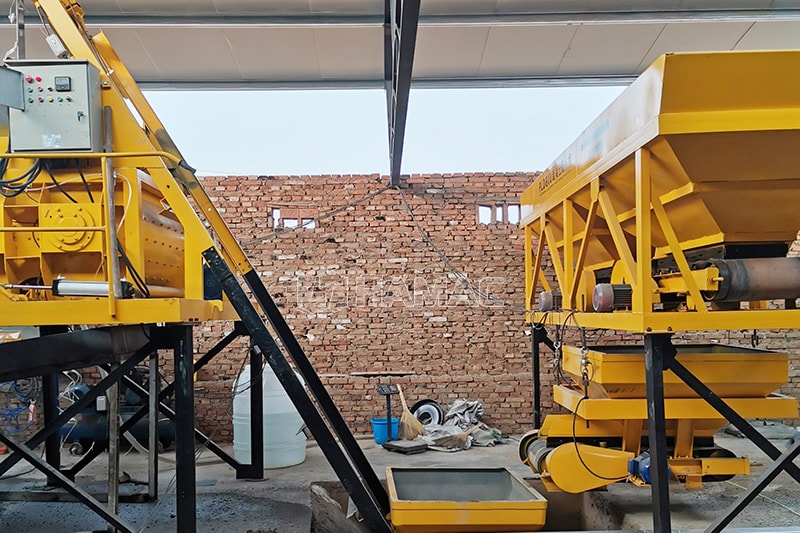 Aggregate batching machine to weigh the aggregates and sand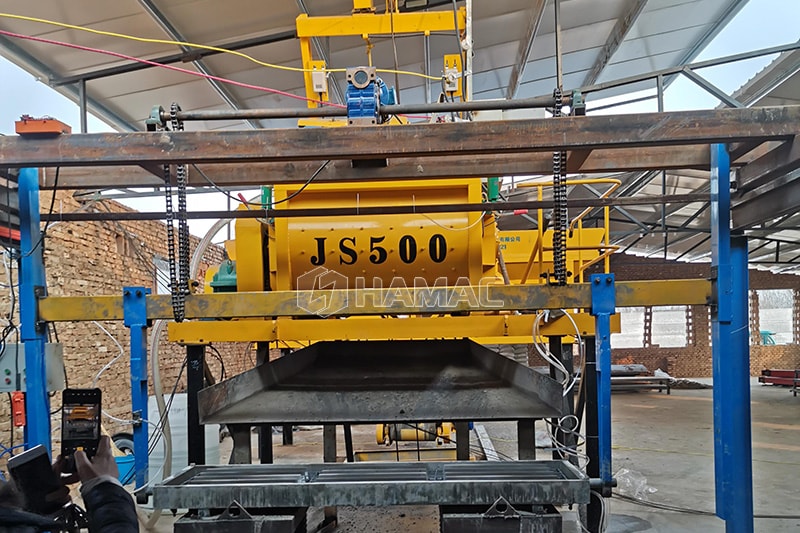 Concrete Mixer to produce concrete
3. The concrete block/brick/paver making machine
This is the main machine of this production line of concrete block. The pallet will be fed into this machine under the mold. And then the block will be pressed together with vibration to form the required concrete block;
4. Automatic concrete block stacker
The stacker is one of the components of the brick making machine equipment - the stacking device (also known as the stacker, the block brick machine stacker, etc.). The stacker are divided into automatic type and semi-automatic type, which are mainly used for stacking after bricks are produced, in order to facilitate the overall handling of packed brick pallets.
5. Color layer placing machine
This machine can be used to place the colorful concrete on the face of the paver or brick, the colorful paver brick you meet is processed under this procedure.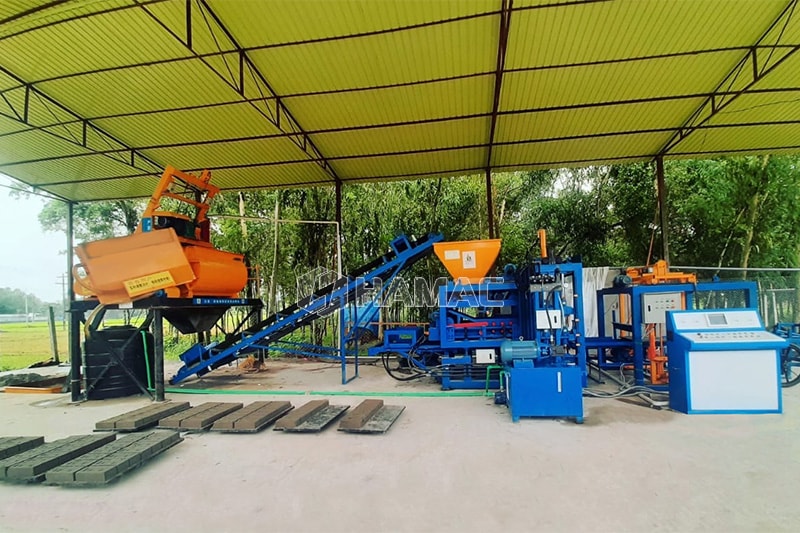 Concrete block making machine is producing paver bricks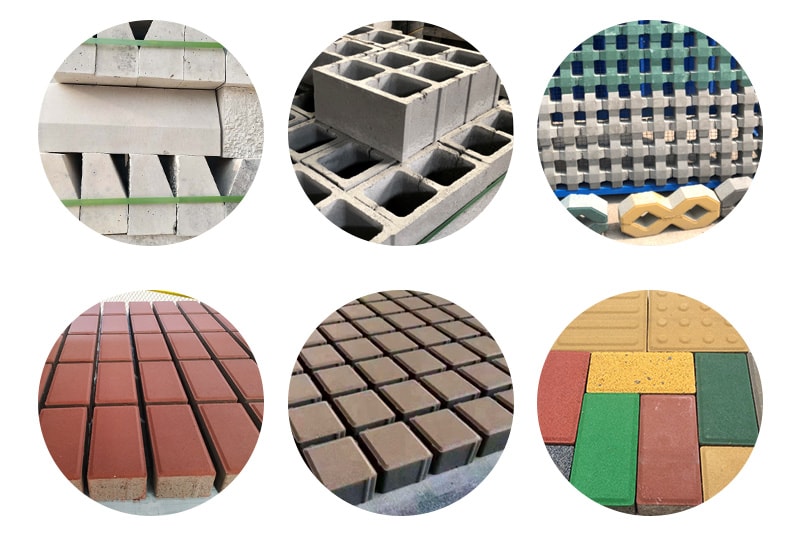 Various concrete block and bricks produced by the concrete block machine
For this concrete hollow block machine, there are many different optional parts according to the requirement for the clients. We will provide you with a suitable proposal after communication with you. Please contact our expert for more information.
Working site of Concrete hollow block production line
The Concrete hollow block production line is widely used for different projects all over the world. HAMAC exported the Concrete hollow block production line to different countries and got good comments from our clients. They are used in different working sites for different projects.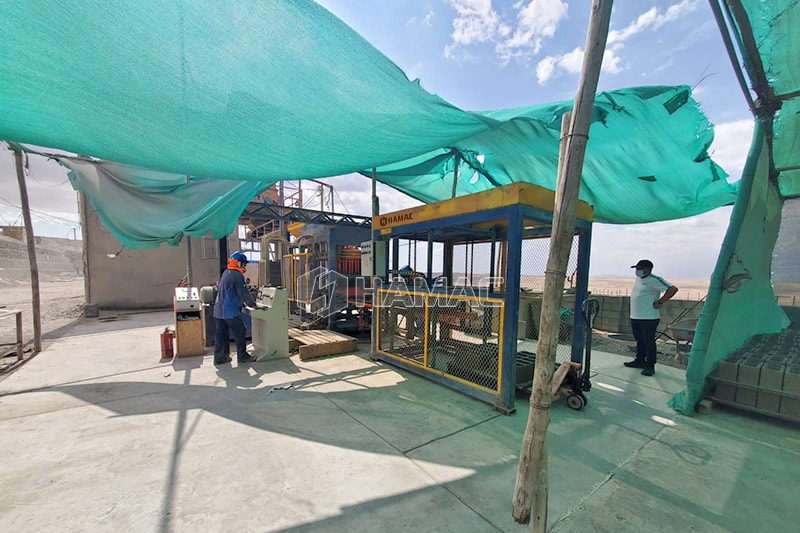 QT4-15 concrete block making machine works in Ica, Peru
Application Country: Ica, Peru
This is a concrete block production line with QT4-15 concrete block making machine erected in 2017. Our clients finally chose HAMAC as their partner after visiting and comparing several concrete block machine manufacturers in China. We dispatched our technician come to Peru to guide our client install the machine and do the commissioning. Our cl…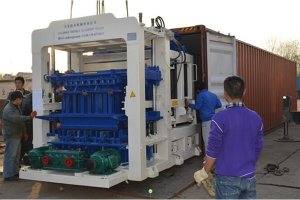 QT4-15 Automatic Block Making Machine in Peru
Application Country: Peru
HAMAC block making machine adopts SIEMENS motor, Delta PLC and SIEMENS electrical components to make the control system and hydraulic system good work performance. If you need any more information, please contact our sales.…