Hoisting Hopper Type Concrete Batching Plant
Hoisting hopper type concrete batching plant is a plant which is forced and high efficiency, it is an ideal equipment to produce the concrete which is used to produce plastic concrete, dry concrete and so on. Because of its high efficiency, it is being widely used in big and medium scale construction project, road and bridge, and the factories which produce the pre-fabricated concrete component.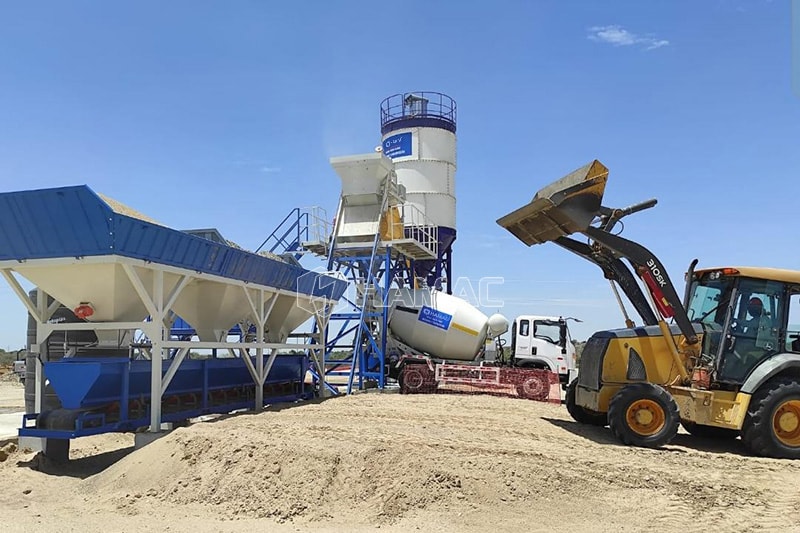 HZS35 concrete batching plant in Peru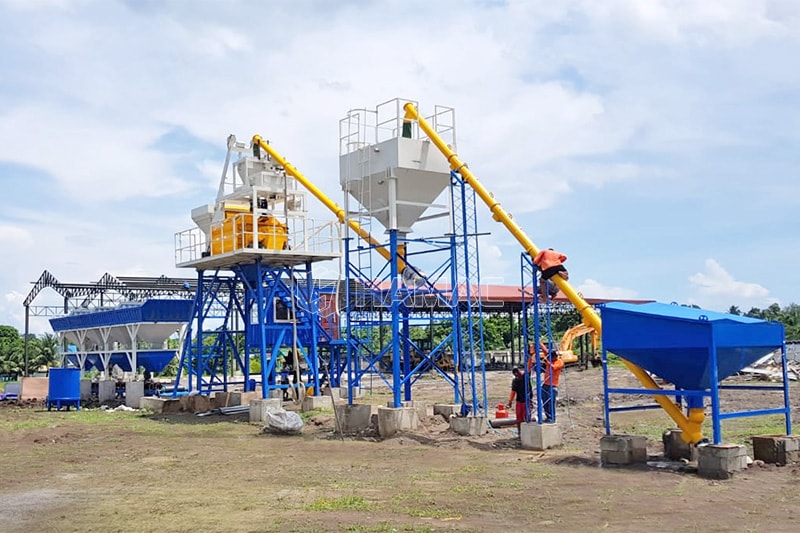 HZS50concrete batching plant in the Philippines
Advantages:
1. Skip hopper feeding system, cost effective. It will occupy small area than the belt conveyor type;
2. Adopt twin horizontal shaft forced type concrete mixer or planetary concrete mixer, it adopts two heavy duty gear box, electrical lubrication system, hydraulic discharge system, durable mixing device, etc.
3. Excellent environmental protection, dust collection system and anti-noise design.
4. Accurate weighing system (aggregate, cement, water, additive).
5. PC+PLC control, vividly display the production process on the screen, so that the operator can monitor in real time; save the data of production perimeters in the computer, print daily, monthly or yearly statistic reports of production.
This full automatic Concrete Batching Plant is a specially designed concrete plant model which is preferred in cases of limited land constraint but high production capacity requirement. It is purchased by the contractor themselves, they need the concrete to supply this own projects. So they produce the concrete by themselves to save the cost. After several years, the projects are finished. They can sell the plant to other contractors or other end users. Of course, in some countries and regions, this type of concrete batching plant is used to supply the concrete to the end users by the concrete providers as well. It is a good product to start the concrete business because its investment is lower if compared with the belt conveyor type concrete batching plant.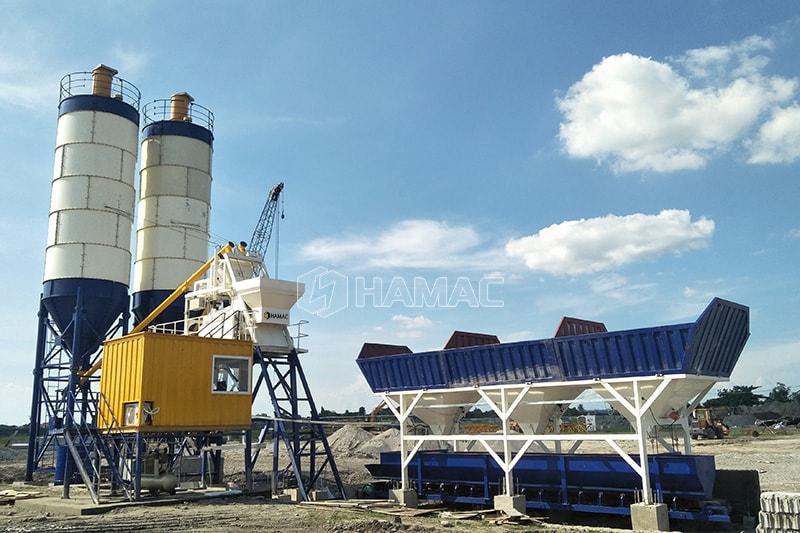 HZS50 concrete batching plant in the Philippines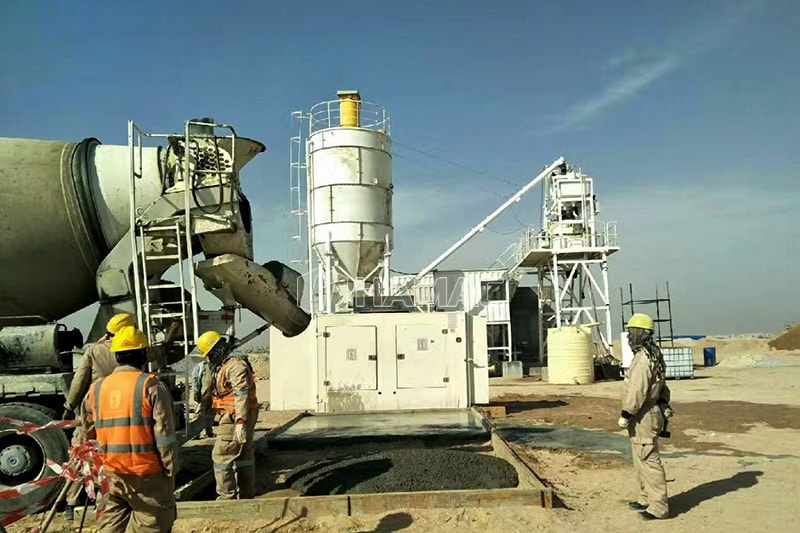 HZN50 concrete batching plant with planetary concrete mixer in Kuwait
For our concrete batching plant, the pneumatic cylinders, vibrators, air compressor, water pump, butterfly valves, load cells, cables, electrical components, gearboxes, all of them are supplied by top-class suppliers. This is to ensure the concrete batching plant works smoothly and perfectly. It is very important to compare the brands of these parts before your purchase the plant. HAMAC always provide you with high quality product.
We can provide you with this design with the capacity 25m3/h, 35m3/h, 50m3/h, 75m3/h etc. Please contact our expert for more information.
Working site of Hoisting Hopper Type Concrete Batching Plant
The Hoisting Hopper Type Concrete Batching Plant is widely used for different projects all over the world. HAMAC exported the Hoisting Hopper Type Concrete Batching Plant to different countries and got good comments from our clients. They are used in different working sites for different projects.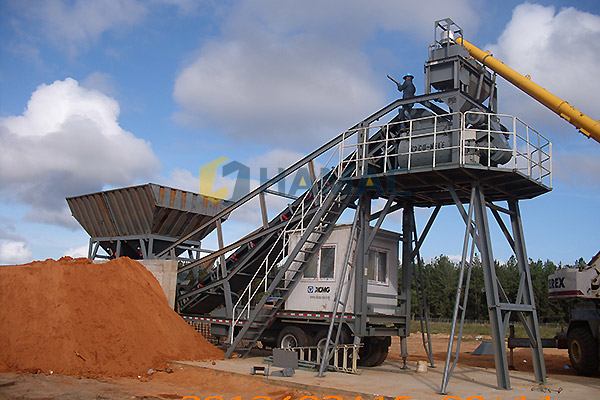 YHZS50 Mobile concrete batching plant in Australia
Application Country: Australia
This projects was installed on 2012, it works for 5 years up to now. It is for a contracting company who has many different projects in Australia. When one projects finished, it will be transported to another working site for the next projects. It saves the installation time and transportation cost for concrete. …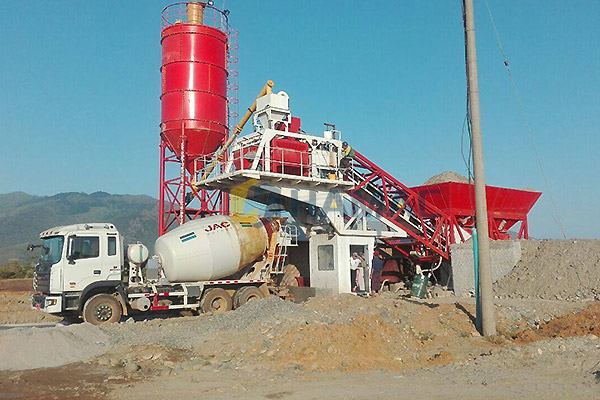 YHZS50 Mobile Concrete Batching Plant in Myanmar
Application Country: Myanmar
This is our project in Myanmar. This client has many different working sites. He wants to move the concrete batching plant after one project finished. So, we recommend him this mobile one. This customer visited us last year, and visited many companies. Finally he choose us because of our quality and our professional service for exporting even ou…