Clients' Working Site
It is combined by the traditional mixing and the traditional concrete pump together, you could tail it by a truck or forklift quickly from a site to the other sites, so the efficiency of mixing concrete pump can be up 4 – 6 times than the traditional mixing and the traditional concrete pump.
Such as: it is usually seven days between two floors of the intervals in the construction site of china, This is the concrete sets up the intensity of time necessary to maintain, during the time, the traditional mixing and the concrete pump have had a rest, because the cost and time is too more to move its, only to stop and waiting. But diesel concrete pump mixer will been moved and used quickly to other three or four sites during the same time. This is diesel concrete pump mixer value.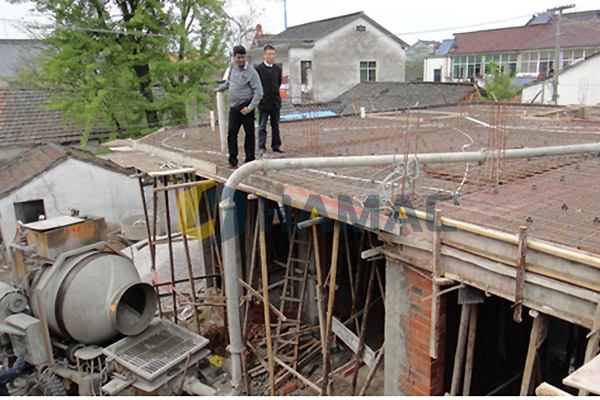 Advantage
1. The median tank layout, the center of gravity in the middle of the two wheels.
2. The mixer and concrete pump can be easily separated, can realize the independent use and combined use.Tere are two location------ work alone and combination.and it is convenient for the replacement of the concrete piston. The mixer drum is not the barrier located above the concrete pump stroke cylinder part of the inspection, maintenance, it is easy to be maintenance by pull the pump unit out from mixer.
3. Diesel engine is on the rotary platform, with three different optional position: dragging, working and shipping container position. Working position is away from the hopper, avoid diesel close to the pollution source-------loading hopper, to increase reliability, while expanding loader working space. Dgging position close to the machine body, the focus is adjusted to the median of two wheels, and reduce the cross section of the transport process of size, reduce the transport road width.Shipping container position to ensure the machine just enter a standard 20 foot container without dismantling.
Specification
Equipment Diesel Concrete Pump With Mixer For 10 Layer Building Without Crane
Diesel concrete pump with mixer performance parameters
| | | |
| --- | --- | --- |
| Item | Unit | HBT2008JZC350  |
| Pump Max Output | m³/h | 15 |
| Theoretical Output | m³/h | 23  |
| Max. Pressure on Concrete | MPa | 8  |
| The type of distribution valve |   | S tube valve |
| delivery cylinder | mm | 180×800 |
| main oil cylinder bore/Rod diameter x stroke | mm | Φ110/Φ65×800 |
| Oil tank capacity | L | 250 |
| Outlet opening diameter | mm | Φ150 |
| Inner dia. of delivery pipe | mm | Φ125 |
| Diesel model |   | F4L912(DEUTZ) |
| Diesel power | KW | 45 |
| Max. diameter of aggregates | mm | 40 |
| Pulling speed | Km/h | ≤8 |
| Maximum delivery Horizontal distance | M | 200 |
| Maximum delivery Vertical distance | M | 40 |
| Mixer Type |  TOPLL | JZC350 |
| Capacity of charge Hopper | L | 560 |
| Capacity of discharge Hopper | L | 350 |
| Charge hopper cylinder bore/Rod diameter x stroke | mm | Φ80/Φ50×600 |
| Hydraulic motor /diesel of drum | | A2F |
| Water pump motor control | | Electromagnetic clutch |
| Diameter of drum | mm | 1440 |
| Drum rotary speed | rpm | 15 |
| Charge hopper load up time | s | 6 |
| Charge hopper unload down time | s | 4 |
| mixing time | s | 45-60 |
| Tread distance | mm | 2250  |
| length ×width ×height | mm | 5500×2300×2700  |
| Weight | Kg |  4500 |
| Packing quantity (20 foot) container | | 1 |
Tags: wheel mobile jaw crusher mini concrete mixer machine price sany concrete pump concrete pump car new cat skid steer for sale Mechanical distributor boom concrete pump pipe accessories in Banjul Small Concrete Pump Truck