Clients' Working Site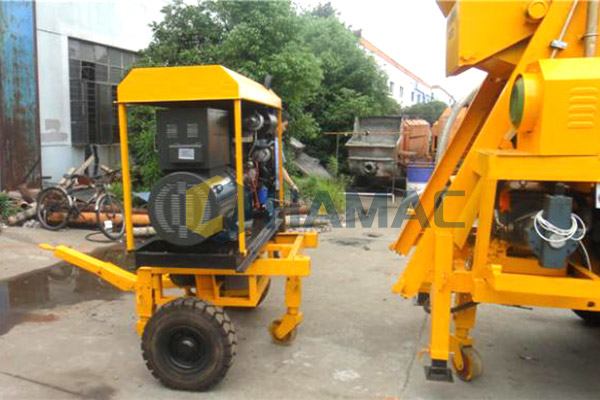 Advantage
1. specially designed for hydraulic tipping loading hopper and non accumulator hydraulic system.
2. Only a diesel engine to provide the power to drive tipping loading hopper cylinder, mixing drum, concrete pump stroke cylinders ,swing cylinders, concrete pump agatitor.
3. There is the isolation chamber sealing structure in stroke cylinder even if the inlet of the stroke cylinder seal damage, wear the seal from the washing room of the water will be discharged out of the machine, can not enter the hydraulic oil tank.
4. The electromagnetic clutch + timer control water system, automatic watering timer automatic control water supply.
5. The high median tank layout, oil flow into the hydraulic pump itself, to avoid the lack of oil to demad oil pump, high reliability.
6. The median tank layout, the center of gravity in the middle of the two wheels.
7. The mixer and concrete pump can be easily separated, can realize the independent use and combined use.Tere are two location- work alone and combination.and it is convenient for the replacement of the concrete piston. The mixer drum is not the barrier located above the concrete pump stroke cylinder part of the inspection, maintenance, it is easy to be maintenance by pull the pump unit out from mixer.
8. Diesel engine is on the rotary platform, with three different optional position: dragging, working and shipping container position. Working position is away from the hopper, avoid diesel close to the pollution source-------loading hopper, to increase reliability, while expanding loader working space. Dgging position close to the machine body, the focus is adjusted to the median of two wheels, and reduce the cross section of the transport process of size, reduce the transport road width.Shipping container position to ensure the machine just enter a standard 20 foot container without dismantling.