Concrete line pump
This type of concrete pump is mounted on a truck, and it is commonly referred to as a line pump or truck-mounted concrete pump. In order to deliver the concrete directly to where it's needed, the hose will need to be securely attached. A line pump is more suitable for smaller, domestic projects as opposed to commercial ones. The hose will allow the concrete to be delivered more accurately and is perfect for horizontal pouring. Although the concrete cannot be poured at rapid speeds, it can precisely deliver between 20 and 90 cubic yards of concrete an hour, hence why a line pump is better suited towards residential projects, swimming pools, sidewalks, and most ground slabs.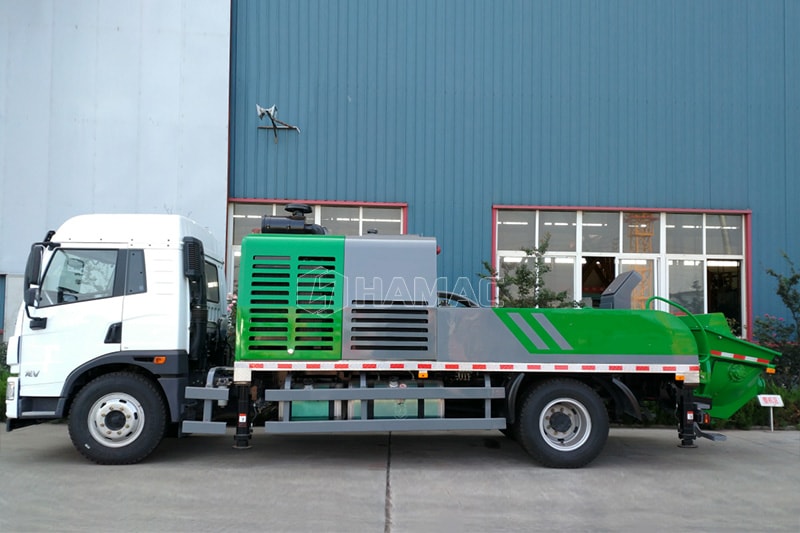 100m3/h concrete line pump
Compared with common trailer concrete pump, this concrete line pump is with high pressure hydraulic system and big motor power diesel engine. It can pump pumpcrete longer horizontal distance and higher height.
It can move to different jobsites by itself, not like a trailer concrete pump, there must be a device to tow it. For this truck-mounted concrete pump, it can move by itself. It is faster and more convenient than the trailer concrete pump.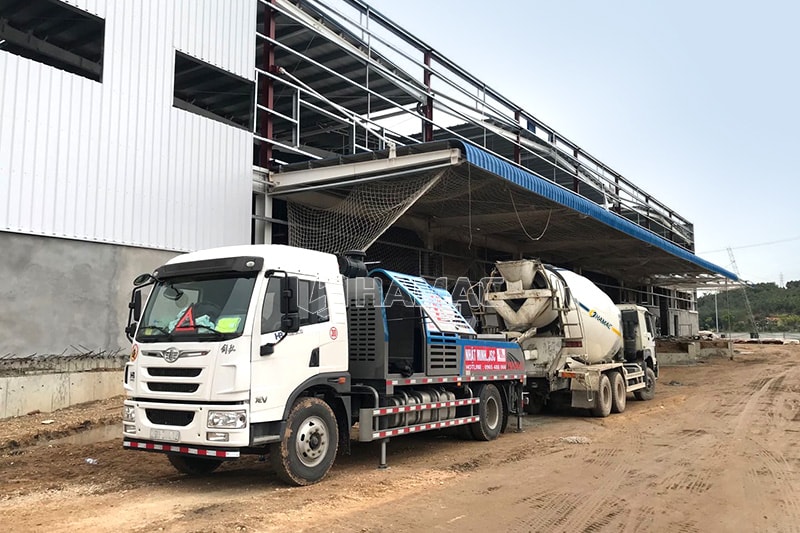 Concrete line pump works in Vietnam
The truck-mounted concrete pump integrates the advantages of trailer concrete pump and truck-mounted concrete boom pump. It is more flexible than the trailer concrete pump, and does not need to be transported, loaded and unloaded, installed and fixed. The equipment is suitable for small batches, multiple construction sites, narrow construction sites and ready-to-go conditions.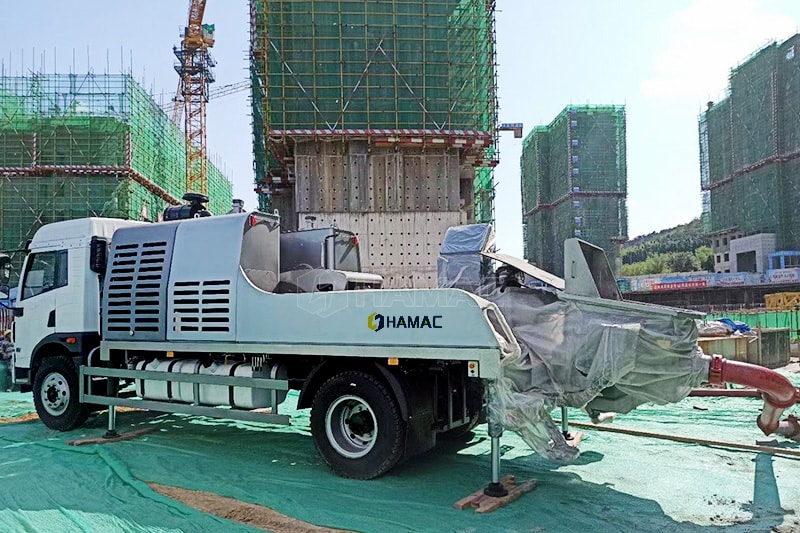 Concrete line pump truck
In addition, the truck-mounted concrete pump has the following features:
(1) The FAW chassis is mainly used, which has strong versatility, convenient maintenance and long service life;
(2) The 4 hydraulic outriggers are independently controlled to effectively ensure the stability of the truck during operation;
(3) Most parts of the pumping system can be interchanged with trailer concrete pumps and truck-mounted concrete pump;
(4) It can be equipped with electric motor or diesel engine according to user requirements. Our standard configuration is Dachai Deutz
HAMAC is one of the premier concrete line pump manufacturer who can provide the trailer or truck-mounted concrete line pump you need for fast, efficient pumping right now.
Please contact our expert for more information.
Working site of Concrete line pump
The Concrete line pump is widely used for different projects all over the world. HAMAC exported the Concrete line pump to different countries and got good comments from our clients. They are used in different working sites for different projects.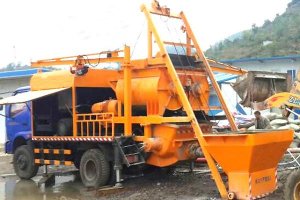 HBT25-L1 Concrete Mixer Pump in South Africa
Application Country: South Africa
Electric Concrete Mixer Pump is a very useful machine which definitely combines the features of traditional concrete pump and concrete mixer together. It can reach the function of feeding, blending, mixing and pumping First the pump gets into the mixing system, after that it enters into the pumping system. And then it is pumped to the constructi…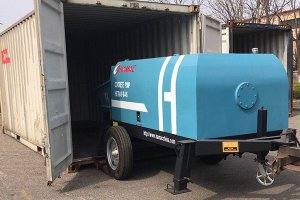 DHBT40 Concrete pump in Panama
Application Country: Panama
he HBT40 will be our very first electric concrete pump 0in the very country, our client is a consulting engineer, after checking our quality and price, he give us the order without hesitation, here I hope our electric concrete pump HBT40 will search this land for our very client and for us too. Here is short introduction to all the customer who …