HMC250 Self-Loading Concrete Mixer in Bahamas
Recently HMA250 self-loading mixer was exported to Bahamas in Sep. 2021. At the first stage, the customer wanted to purchase stationary concrete mixer, but the project is far away from the batching plants.

Based on this situation and the actual capacity, we recommended 2.5 cubic meters self-loading mixer, we sent pictures, running test and the video of working site. Because of our quality service, professional product knowledge and reasonable solutions, finally the customer chose Hamac as his supplier.

The customer has received this mixer and has been put into production, which has greatly solved the customer's problem.

Here I briefly introduce this mixer:
Capacity: 2.5 cubic meters per batch
Application: House and workshop in remote area
Advantages: It combines loading, mixing, weighing, transit and discharging; 4*4 drive is more suitable for rough working condition; Equipped with washing system, easily to clean the machine. Etc.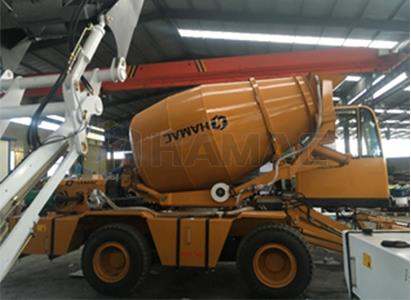 There is no lowest price, only lower price. You get what you pay for. We hope you are looking for the perfect working performance of the equipment, not the low-priced inferior goods. HAMAC only provide our clients with high quality machines. Wish a cooperation with you in the future.