New Site, New Sight.
FROM HAMAC
TO OUR DEAR CUSTOMERS
Thanks for your concern to HAMAC!
After more than 10 year's support by our clients from home and abroad, HAMAC has managed to become an international company. With the introductions of many advanced equipment, HAMAC has more and more important influence on the oversea market. As a Chinese national industry, in order to promote China-Made more widely and deeply, HAMAC will change the company Logo since April 18, 2017.

New logo is a hexagon composed of two arms. It symbolizes that HAMAC treats clients like brothers by providing them the professional solutions and high-quality equipment. Besides, it looks like a nut which embodies that HAMAC pays attention to every small part and contributes to make solid machines. New logo is dark-blue based colored, which shows HAMAC's calm, prudent and professional manufacturing spirit. The engineering yellow represents the enthusiastic and energetic working attitude of HAMAC.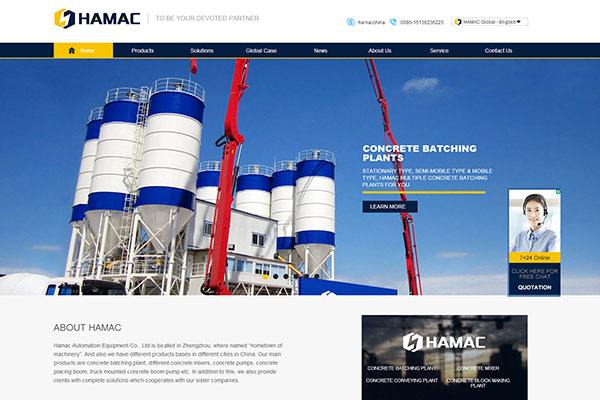 Meanwhile, new website also officially launches since April 18, 2017. With the following of the overall structure of the original site, new website makes an adjustment and refinement on the information content, visual effects and using function. The new website is more professional, friendly, modern and international.
HAMAC sincerely thank you all for your long-term appreciation and support to us. We promise to supply more high-quality and high-tech concrete mixing and pumping equipment to the market. Hope to get your support as always.

Hamac Automation Equipment Co., Ltd
April 18th,2017
There is no lowest price, only lower price. You get what you pay for. We hope you are looking for the perfect working performance of the equipment, not the low-priced inferior goods. HAMAC only provide our clients with high quality machines. Wish a cooperation with you in the future.