DHBT15 concrete mixer pump works in Myanmar
We deliver this DHBT15 Concrete mixer with pump to the north Myanmar in 2018. It was purchased by a client whose main business is opening a factory to produce some machines for local market. After he finished his projects, he rented this machine to different clients who want to build the hose or other projects. Meanwhile, we delivered the concrete mixer pump to some other Southeast countries such as the Philippines, Indonesia, Thailand and Malaysia etc.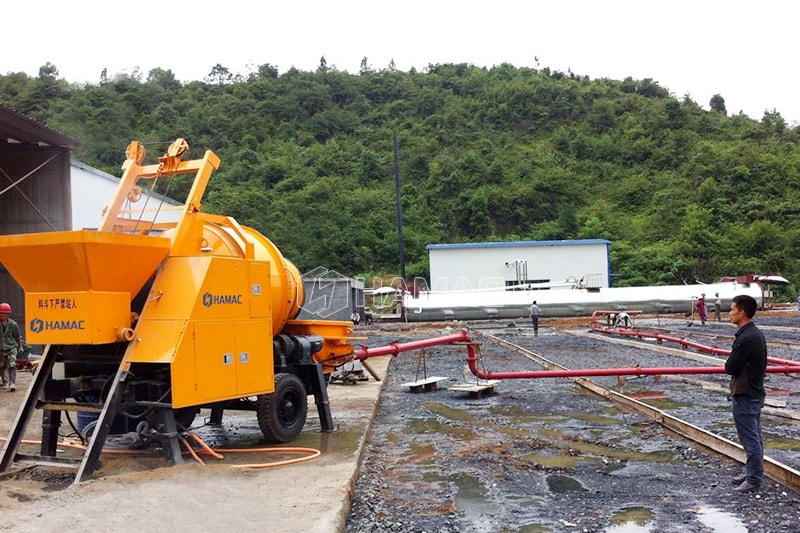 Concrete mixer pump works for workshop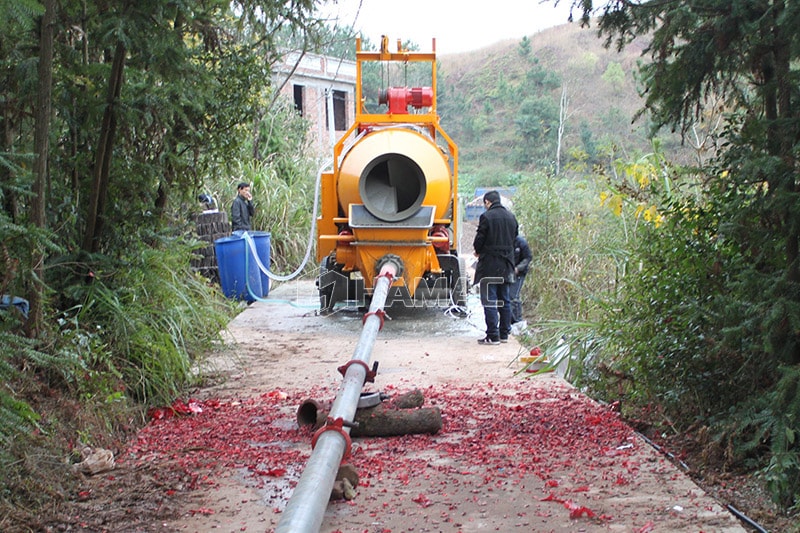 Concrete mixer pump works for building
Advantages of concrete mixer pump for sale
1.It combines mixing and pumping to reduce weight and space;
2. The small concrete mixer with pump is convenient to transport in rural with high efficiency;
3. This model can save much labor and cost;
4. It is easy to operate with remote controller;
Working Principle of concrete mixer with pump
Concrete mixer pump new or used with diesel engine includes mechanical system, power supply system, hydraulic system, air cooling system, lubrication system etc.
1. The mechanical system consists of pumping system, main power system, hydraulic oil tank, chassis frame body, the axle and guide wheels.
2. The power supply system, two options, electrical motor or diesel engine to drive the hydraulic oil pump, then all the system will be driven by the hydraulic system;
3. The air cooling system adopts air cooling system, including water tank, hydraulic motor, fan and the rubber hose. Its function is to make the hydraulic oil at suitable temperature
4. Lubrication system is also a unique part in diesel trailer concrete mixer pump, whose main function is to lubricate some parts and prevent concrete or mortar getting into those moving parts during the whole mechanical movement.
5. Pumping system, which belongs to mechanical system, is the core system. It consists of five key parts: the mixing hopper, the S valve, concrete conveying cylinder, water tank and main oil cylinder. The hopper is used for storing concrete to make sure the normal process of feeding. Valve connects the hopper and water tank, in which there are two concrete pistons. Water tank is the place to store water, and it is an important connector for main oil cylinder and concrete conveying cylinder. The last part is main oil cylinder. It is plated with hard chromium on the surface in order to avoid rusting.
When the pumping system starts working, with the influence of main oil cylinder, concrete pistons begin to move. Meanwhile, the S valve starts to swing in accord with the movement of concrete pistons. By connecting conveying pipe with conveying cylinder in turn, the process of pumping is completed. And then it starts next circulation.
How to deliver the concrete mixer with pump?
For DHBT series concrete mixer pump machine, normally speaking, one 40ft container is required because of the total height of the machine. When we deliver the goods, one DHBT concrete mixer with pump; one unit of diesel generator to drive the water pump and vibrator on the hopper; 100 meters steel pipe, 6m rubber hose, galvanized quick-releasing coupling clamp and polyurethane seal rings are provided.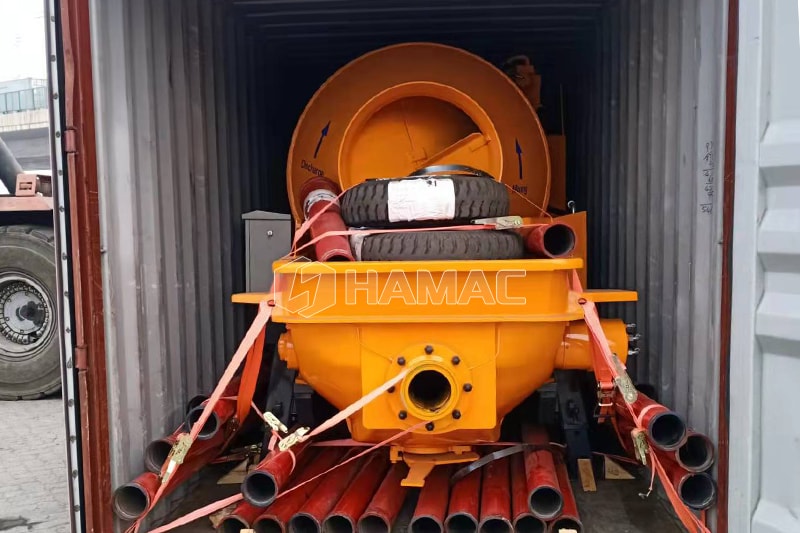 Concrete mixer with pump in the container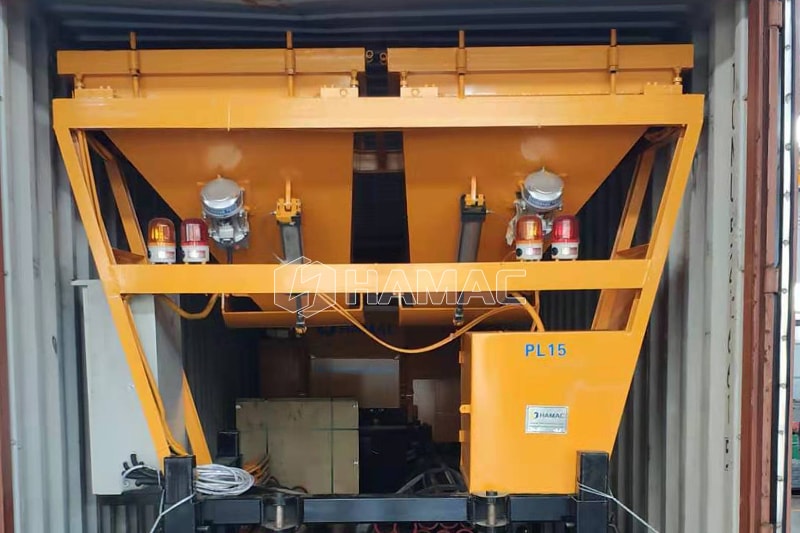 PL15 aggregate batcher delivered with concrete mixer with pump
Auxiliary equipment of concrete mixer with pump
1.Wheel loader, which will be used to feed the concrete mixer pump at site;
2.Aggregate batcher which will be used to feed accurate weight of different aggregates and sand into the concrete mixer with pump for sale;
3.JZR diesel type concrete mixer, it can be used to enlarge the capacity of the concrete mixer with pump.
4.If the area of the building is big, this concrete mixer with pump can work together with a spider concrete placing boom to distribute the concrete to different positions on the floor;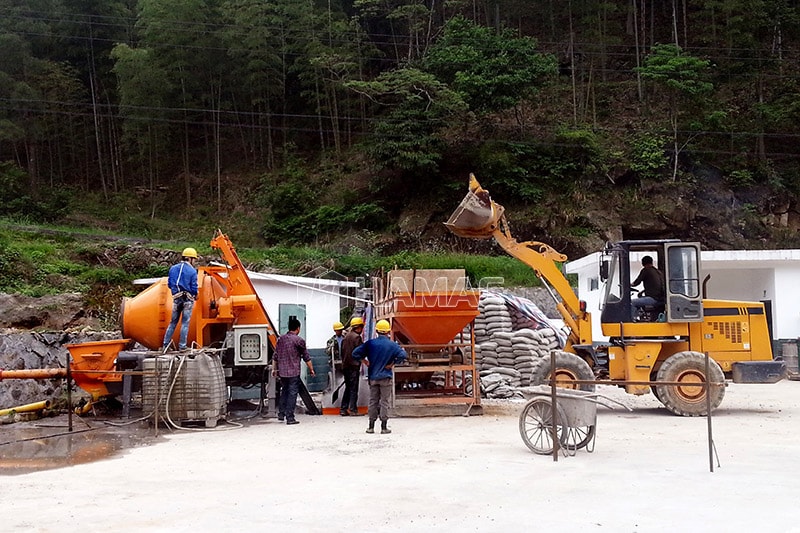 Loader, aggregate batching machine and mixer pump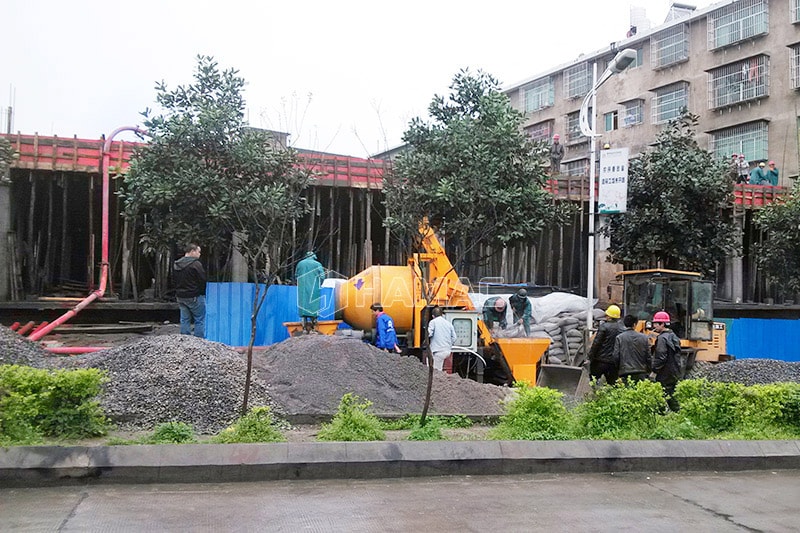 Loader feed concrete mixer with pump
About HAMAC concrete mixer with pump.
As a manufacturer of concrete mixer with pump, we delivered this pump machine to different countries. We focus on the quality and work performance of this machine. And we got CE certificate for concrete mixer with pump. It was exported to EU countries as well.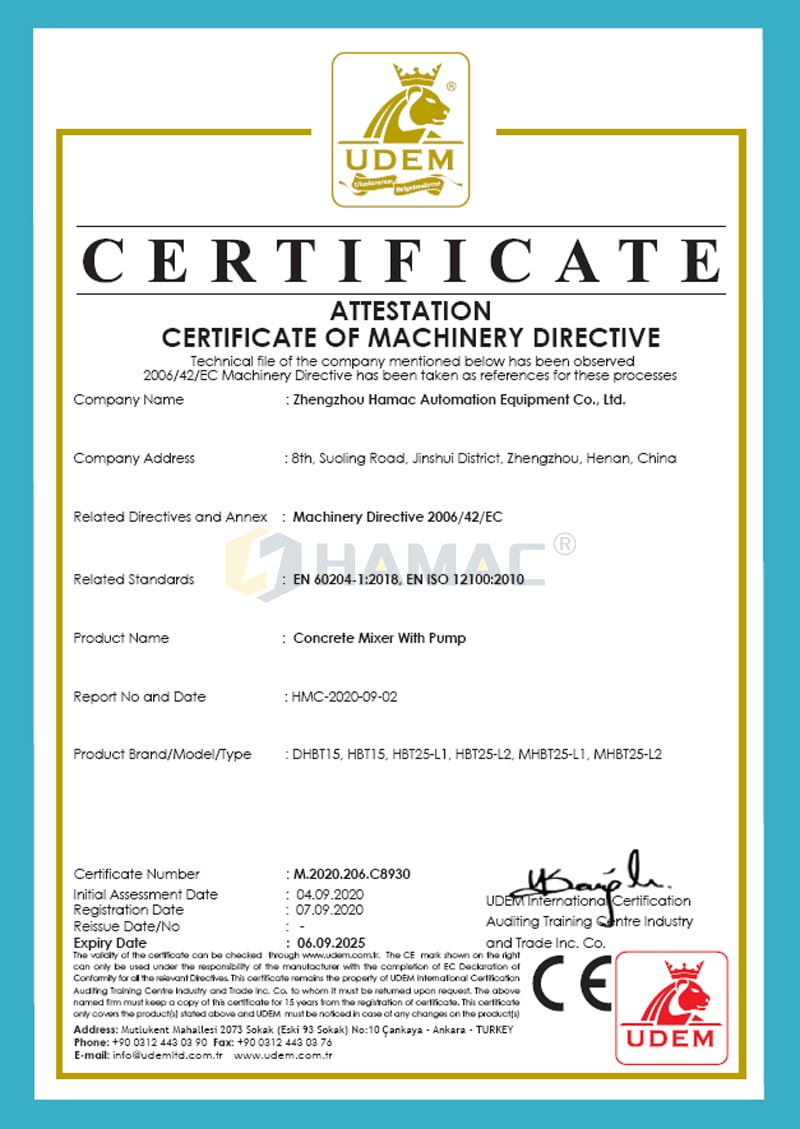 CE certificate of concrete mixer with pump
We warmly welcome your inquiry. Our experts will give you theirs professional support.
If you want to visit this project on site, or contact our client to check the machine's work performance, please contact us: Email:[email protected] WhatsApp:+8615136236223