Clients' Working Site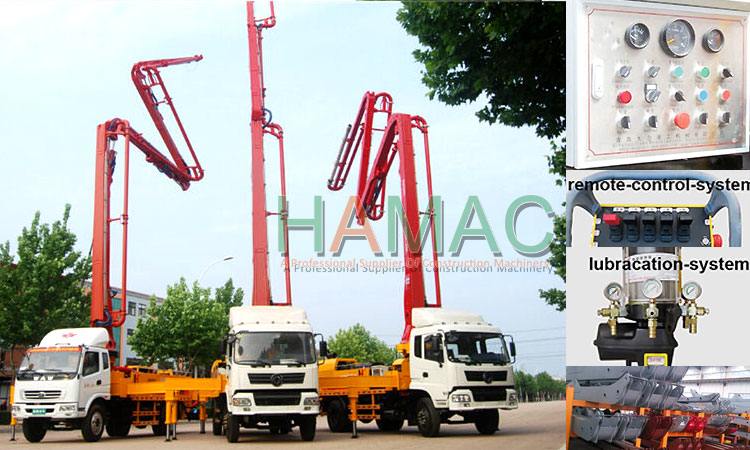 Advantage
With the special chassis for the development of rural market and the 2.3 meters width, it can easily adjust to and pass through the narrow and sludge rural roads. Using flexible four arm design, fabric ranges 20% higher than three-arm. At the same time it also applies the unilateral support technology in order to easily perform in a narrow construction site.
● The construction is especially for the new rural middle-low levels.
● The manufacture of short arm frame designed for high-speed rail construction.
● The design of national IV emission standard for energy conservation, and environmental protection
● Hydraulic automatic reversing of pumping system is for simple maintenance.
● 18-35 meters arms can move up and down, in accordance with high-speed rail laws.
● X-legs is designed to lead more safe and stable operation.
● Extremely high performance price ratio and use reliability help the party make profits.
Specification
Chassis and power system:
Using truck chassis of Chinese FAW, Beiqi Foton, Dongfeng, featuring strong carrying ability, good dynamic performance and low fuel consumption; you can choose the installation of power alone or the chassis power, the Separate power of independent research and development possesses the features of fuel economy, reduce energy consumption, easy maintenance.
Pumping hydraulic system :
full hydraulic control of the hydraulic system , oil pressure transfers signal, making the operation become more simple and reliable, improving swing cylinder commutation speed and reducing the impact of change , meanwhile the speed of large cylinder change is instantly accelerated, the move can full the concrete cylinder, making the process of material continuity and evenly.
The boom and pumping hydraulic system: the arm uses the load-sensitive proportional control system, so as to control the speed of the boom freely and achieve excellent operating performance; it can achieve infinitely variable remote control but also achieve an emergency manual operation in case of emergency; legs and the oil boom switch directly to avoid the misuse and ensure the working security.
The boom:
By the finite element analysis, dynamic analysis and experiment and on the basis of accurate data, materials adopt the high strength low alloy steel plate, and all materials and welds passed by 100% non-destructive testing so as to ensure the rational boom structure and high reliability.
Note: Preferring to choose the matching tops diesel engine: Yuchai, Cummins, Revo.
HMC5025 Truck Concrete Pump Boom
CHASSIS
Chassis
FAW/FOTON/DONGFENG
Emission standards
National standard IV
Engine
DACHAI or YUCHAI
Power and rated speed of engine
200p/2000rpm
Wheelbase
4700
Max driving speed
80km/h
Vehicle approach angle/departure angle
21°/11.5°
Tyre type
9.00R20 16 layers

BOOM SYSTEM

Max concrete placing height
24.2m
Max concrete placing radius
20.6m
Max concrete placing depth
10.5m
First arm length(MM)
6500
Second arm length(MM)
4590
Third arm length(MM)
45900
Fourth arm length(MM)
4900
Arm foldable angle
90/180/360/540
Boom control system
Load sensing proportion control system
Arm folding form
M type
Turret rotation angle
90°
Front support leg span
5350
Back support leg span
3300
The leg longitudinal distance (MM)
6100
Leg opening type
X-H
Trail length of hose
3000mm
Diameter of pipeline (MM)
125
Electrical control system
Control Power Supply
24v
Control model
PWM
Working voltage
24
Electric parts
Omron
Wireless remote control
Germany HBC or homebred
Hydraulic transmission system
Hydraulic system type
Open circuit
Rated working pressure
31.5Mpa
Main oil pump
Rexroth /Kawasaki
Main oil pump model
A11VO190,K3V140 K3V180
Main oil pump capacity
190,140,180
Electro-hydraulic directional control valve
Imported or Domestic
Suction and back oil filter
Liming(domestic)
Jib multi-way valve
HAWE or domestic
Jib balance valve
Italy
Jib oil pump
Domestic
Support leg multi-way valve
Italy or domestic
Safety valve
Imported or domestic
Oil cylinder hydraulic seals
Parker
Hydraulic hopper capacity
450
Hydraulic oil cooling
Air-cooling
Main oil cylinder
XIELI(domestic)
Transfer case
Germany STIEBEL or domestic
Slewing reducer
Domestic brand
Hose connection
Eaton
Cleaning system
Air pressure or plunger pump
DIMENSIONS WEIGHT
Total length of vehicle(MM)
9445/9910
Total width of vehicle(MM)
2300
Total height of vehicle(MM)
3550
Total weight of vehicle(T)
15.8
PUMPING SYSTEM
The type of distribution valve
S valve
Concrete piston
Domestic
Max. outlet pressure(H/L)
10/5
Concrete cylinder Dia x Stroke
200/1200-1450
Max. feeding height(MM)
1450
Hopper capacity(M3)
0.65
Concrete slump
160-220
Allowable max diameter of aggregate(MM)
Allowable max diameter of aggregate(MM)
Tags: mobile batch plant concrete mixer truck pump trouble shoot noisy in Tunis Concrete Mixer Truck price crawler loader for sale concrete mixer trucks from italy in Nouakchott concrete mixer truck with pump portable concrete mixer and pump mobile concrete batching plant
Concrete Mixers
Concrete Batching Plant
Concrete Conveying Plant
Related Concrete Equipment
Concrete Block Making Plant