Tips you should know about cement silo
Types of cement silos
There are different types of cement silos for sale in HAMAC factory. Normally speaking, there are three different types. The most popular type is the bolted type cement silos for overseas market.
1.One is welded type, WELDED TYPE SILOS (SINGLE PIECE), it is more convenient for the clients. It saves time to be assembled. But it is normally used in our domestic market only;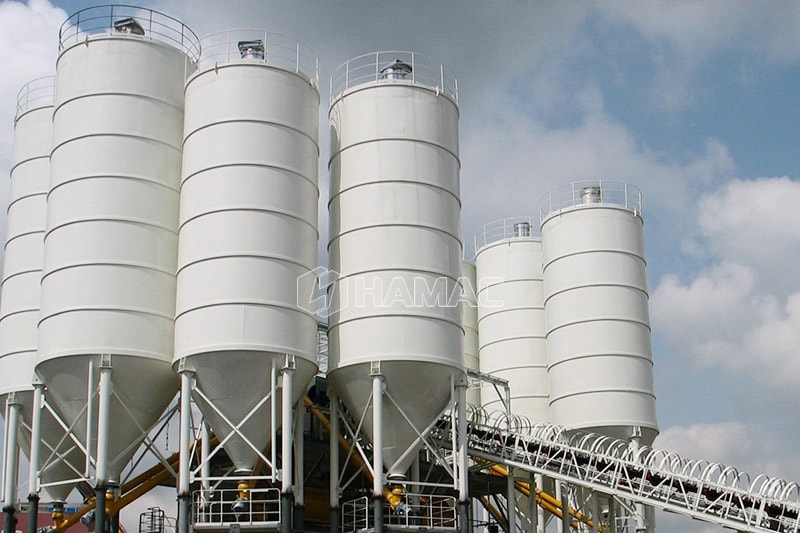 Welded type cement silo for batching plant
2. BOLTED TYPE CEMENT SILOS, For the overseas market, you have to consider the cost for sea freight. If you still put the welded type cement silo in the container, the sea freight will be much higher than a cement silo itself. It is possible to produce cement silos up to 100 tons capacity as both welded and bolted. Cement silos whose capacity is more than 100 tons are manufactured as bolted type most of the time. To manufacture the silos as bolted type brings advantage of space saving during transportation. The clients can save the cost for sea freight. Bolted silos are the best choice for long distance transportation as 2 units of 100 tons cement silos with dust filters and other equipment can be fit in one 40FT container. While offering great transportation advantages bolted silos require more time for installation.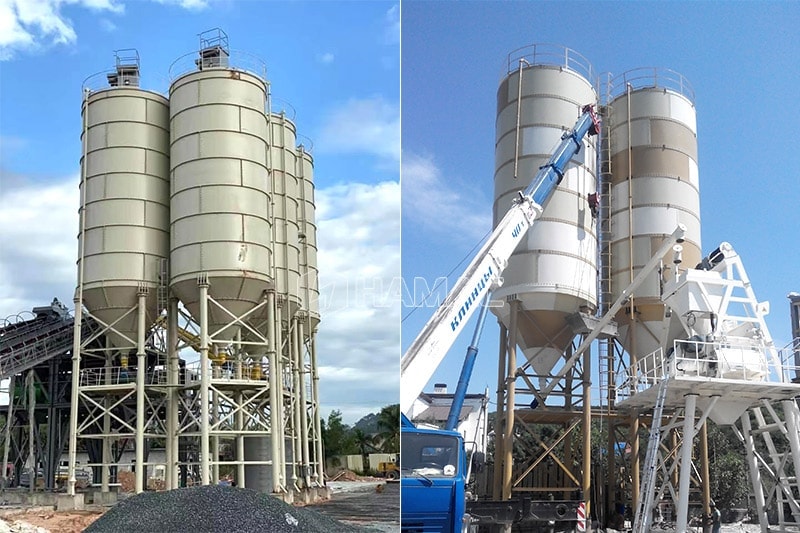 Botled type powder silo
| | | |
| --- | --- | --- |
| Model | Volume (T) | Diameter (mm) |
| 50T | 50 | 3260 |
| 60T | 60 | 3260 |
| 80T | 80 | 3260 |
| 100T | 100 | 3260 |
| 200T | 200 | 4200 |
| 300T | 300 | 4200 |
| 500T | 500 | 6600 |
| 600T | 600 | 6600 |
| 700T | 700 | 6600 |
| 800T | 800 | 6600 |
| 1000T | 1000 | 8000 |
| 1500T | 1500 | 10000 |
| 2000T | 2000 | 10000 |
HORIZONTAL SILOS can be considered as one more model of welded type cement silo. It is manufactured as container type. You have to consider how to put it into the container for shipping. Its length, width and height is limited. Normally speaking, its maximum volume is 40 m3.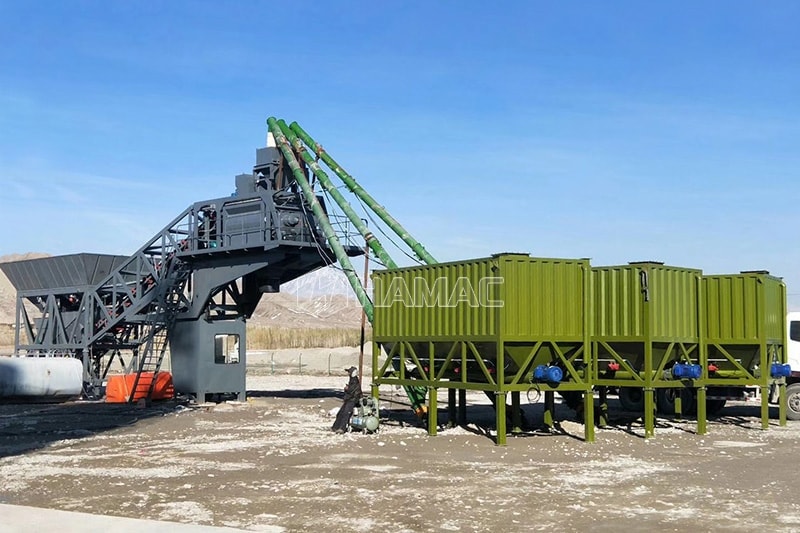 Horizontal cement silo for mobile batching plant in Mongolia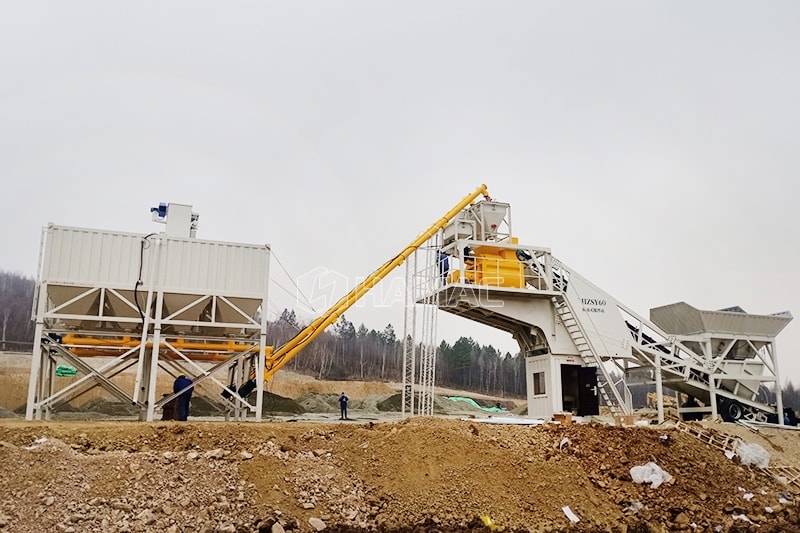 Horziontal cement silo and YHZS50 mobile concrete batching plant
Advantages of bolted type cement silo:
For the bolted type cement silo, there are many advantages as below:
1. Exquisite Appearance
Beautiful weld bead, professional derusting by sand blasting, painting and packing ensure the delicate appearance of the silo after installation.
2. Reliable Sealing Structure
After the bolt is tightened, the special sealing strip is compacted from 5mm to less than 1mm, and the gaps will be fully filled because of the strong elasticity. A layer of special structural sealant is applied to the outer wall of the silo, that is, the special sealing strip, so as to achieve double-layer protection and ensure the sealing of the silo. All sealing materials used and 8.8 grade high-strength fasteners can maintain stable performance for a long time under the temperature between -40℃and 200 ℃.
3. Professional Packaging
All parts are packed by thin film, bubble film and carton paper, which will effectively prevent goods and painting from being damaged during sea and land transportation.
4.It also has other characteristics: low cost, small covering area and long working life, which can generally reach about 30 years.
5.It is easy and quick to assemble, and all parts of the assembly bolt type silo are connected by bolts, thus shortening the construction period.
What projects the bolted type silos can be used?
It is widely used in different projects. Assembly bolted type silos are suitable for bulk cement storage silos, factory bulk storage systems, bulk material logistics transfer systems, brick machine production lines, cement plants, mine sand-making plants and other bulk material storage (reconstruction and expansion) projects in engineering construction, commercial concrete mixing plants, road and bridge water conservancy projects, urban construction and other projects. It can store various solid bulk materials, including cement, stone powder, sand and gravel particles, mineral powder (slag), coal ash (slag), volcanic ash (slag), silicon dioxide, calcium carbonate powder, gypsum powder, grain feed, animal feed, etc. It is currently an environmentally-friendly device for stocking various materials.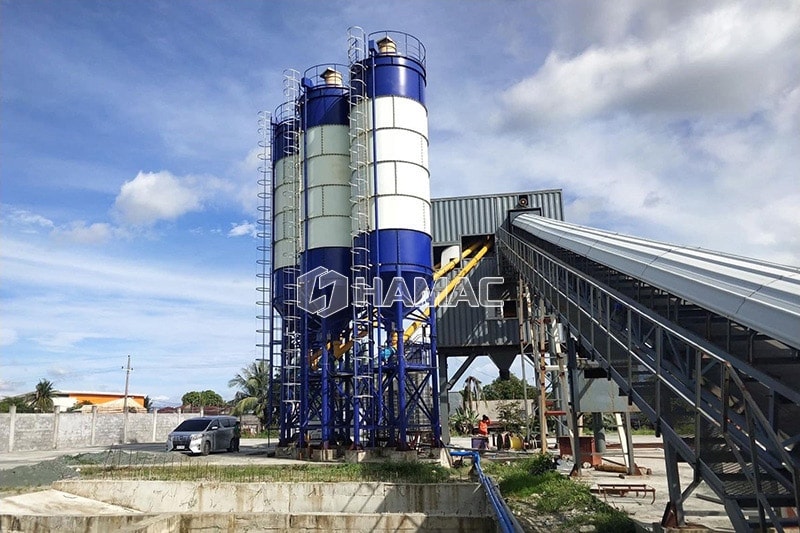 Bolted type cement silos for concrete batching plant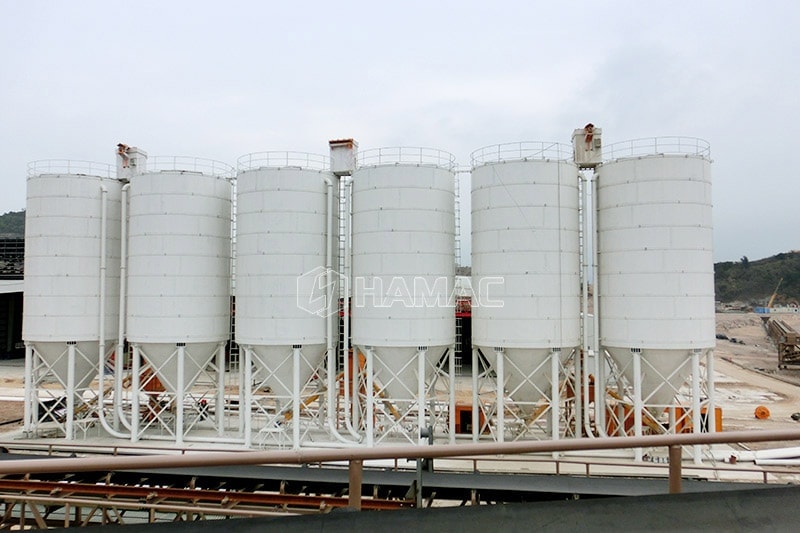 T flange bolted type power silo 800 tons
What accessories are needed for the cement silo?
All our cement silos are equipped with maintenance platform between the legs, cement filling pipe, inner and outer manholes, level indicators, safety guards, roof flanges for air filter and pressure safety valve, a roof gate for inner manhole and also a cone flange for butterfly valve. All the accessories parts are from Italy WAM.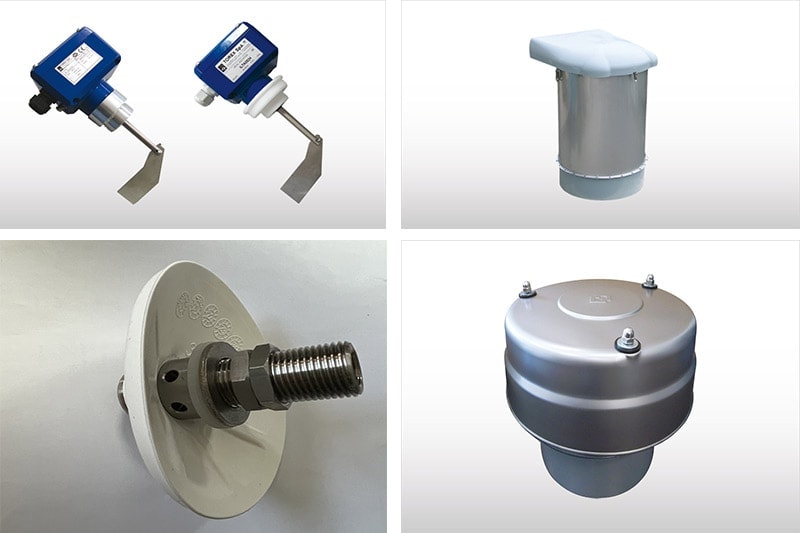 1. ILT Level indicator 2. SILOTOPR03 dust filter 3. VBS silo bin aerator 4. VCP Pressure Relief Valves
Most of the time, as per our clients' needs, we deliver our silos together with all other necessary cement silo equipment such as cement screw conveyor with the desired diameter & length, air dust filter, pressure safety valve, top & bottom level indicators, air fluidization nozzles, pulse valve and cone butterfly valve for manual cement discharging. In case of using the silo for cement terminal or similar application, the screw conveyor can be connected to a loading below to charge the cement to cement tank trucks.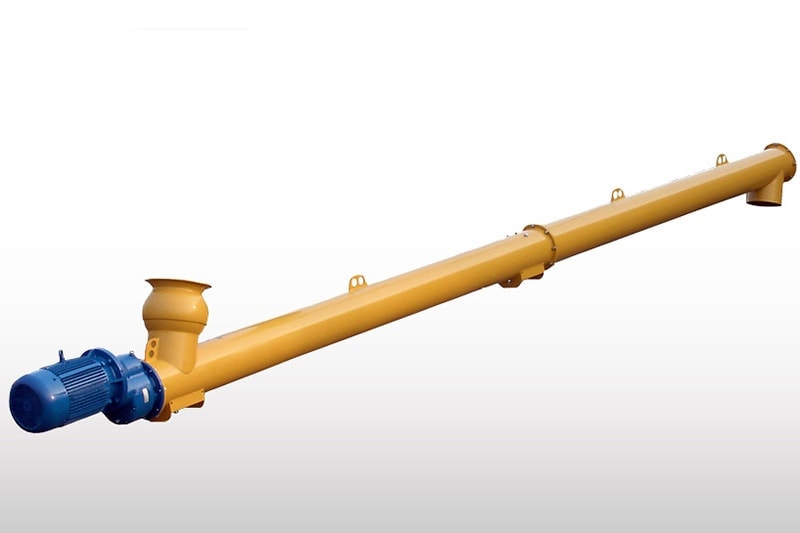 ES screw conveyor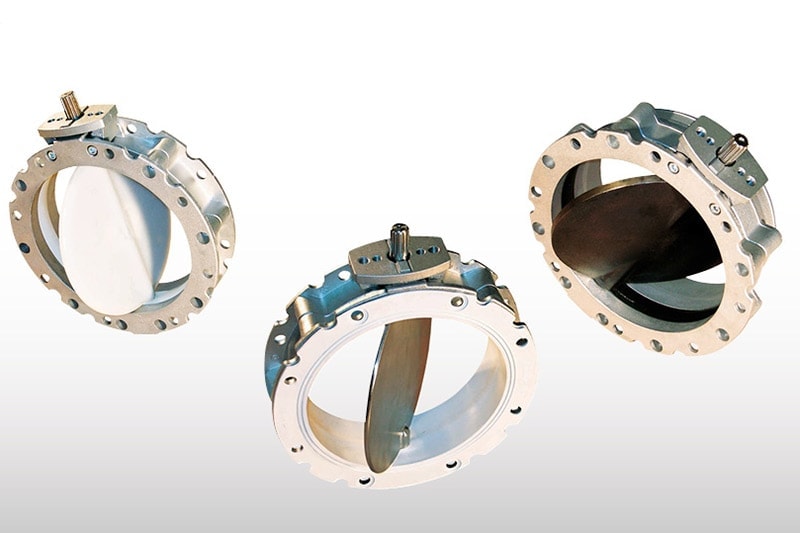 VFS butterfly valve
What is the price for cement silo?
HAMAC manufactures different sizes and types of cement storage silos from 50 to 2000 tonnes storage capacity. For different volume cement silos or lime silos, their price is different. In order to get an exact quote, you have to provide the below information,
The diameter of the cement silo;
The discharge height of the silo, because the support leg length will be different, the cost is different;
The brand of accessories for the silos; if the client's budget is not enough, we can replace the accessories with other common brand, it is cheaper than WAM brand silo accessories;
How to assemble a bolted type powder silo?
When we deliver the goods, there will be a tool box included. There are seal glue, rubber seal ring, different sizes nuts and bolts and other accessories in it.
At site, you have to prepare two truck cranes of 20 tons, 7-8 workers to assemble it step by step according to the video which we will send to you after you purchasing the powder silo.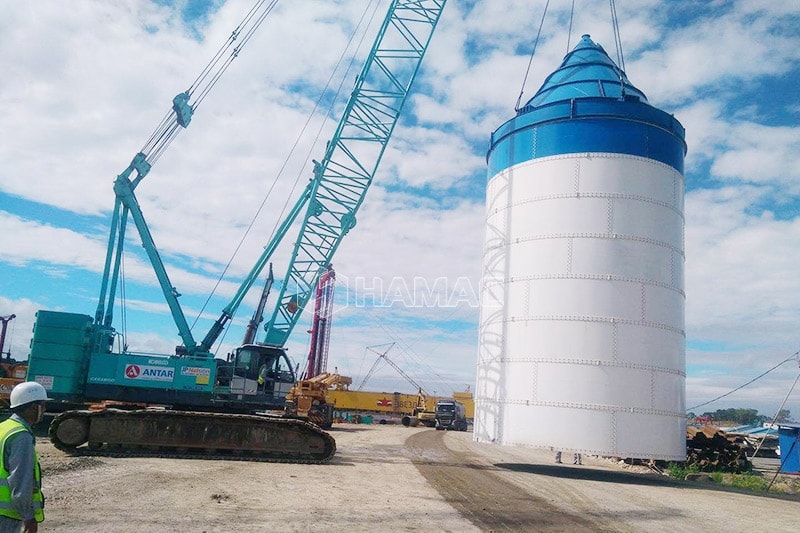 800 tons cement silo was being erected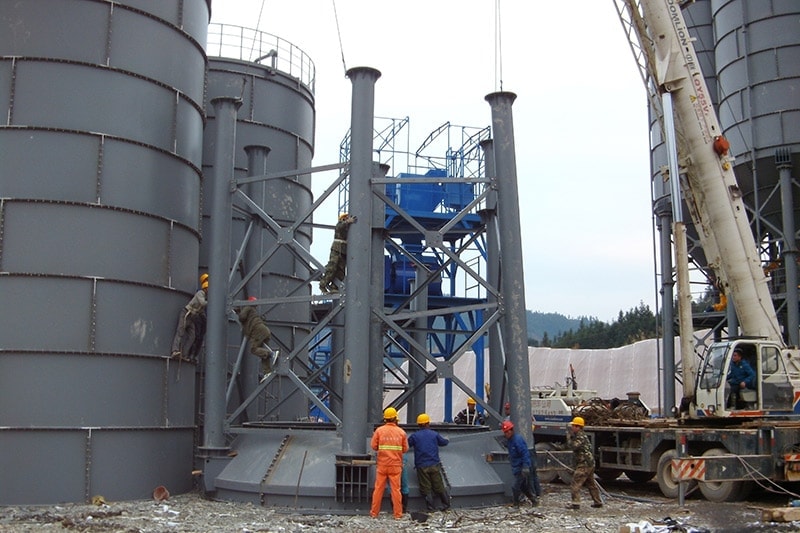 600 tons cement silo was being assembled
Manufacturer of cement silos and powder silos
HAMAC is the most experienced Chinese company that manufactures big volume of cement silos such as 500, 700, 1000 and 2000 tons very frequently. HAMAC is the biggest cement silo manufacturer in China. In addition to our common designs, our company designs and manufactures also customized cement silos with special sizes of diameter and discharging height. We exported many silos of different volume to all over the world for some big group company and got good feedback from them.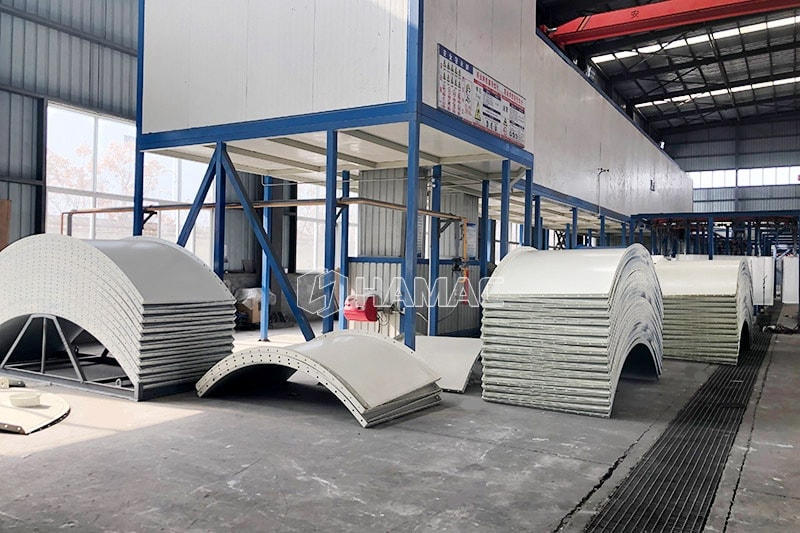 Silo body packed by pieces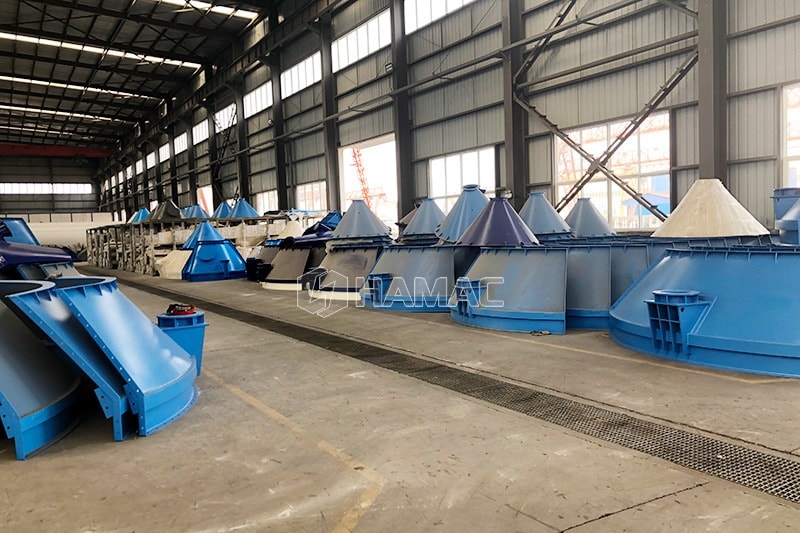 Disassembled silos in HAMAC factory
How To Select the reliable powder silo Manufacturers?
Visit the factory and check the manufacturing procedures;
It is a wise way for customers to visit bolted cement silo manufactures factory by themselves. You can observe the real strength of the cement silo suppliers on the close sight.
HAMAC is one of largest cement silo manufacturers in China. We are the appointed powder silo suppliers of many international construction groups. We warmly welcome you come to China to visit our factory and discuss about the details face to face;
2. Attentive service
A reliable cement silo manufacture certainly has a perfect service system. It is true that a good reputation is an imperative condition if cement silos suppliers want to go far on its way of business. HAMAC is an integrative cement silo manufacturer that combines manufacturing, sales and service. We have rich experience on supplying the bolted type powder silos to our clients from different countries such as Philippines, Peru, Mongolia, Indonesia, Ecuador, Mexico, Dominican etc.
3. Superior manufacturing technology
All the steel plates, steel bars will be processed by sand blasting to eliminate the rust, and then it will be painted three times, the service life of HAMAC cement silos will be longer. Every step is being treated carefully and strictly.
There is no lowest price, only lower price. You get what you pay for. We hope you are looking for the perfect working performance of the equipment, not the low-priced inferior goods. HAMAC only provide our clients with high quality machines. Wish a cooperation with you in the future.