HZS120 RMC batching plant was delivered to Philippines
On 9th and 10th September, 2022, one complete set of HZS120 RMC batching plant was delivered to Davao, Philippines. Our staff loaded the different concrete batch plant parts of this stationary concrete batching plant for sale into 8 containers and fixed well in our factory. As one of the batching plant manufacturers, HAMAC is exporting the batching plant to Philippines every month.
Why this client wants to invest on ready mix batch plant for sale?
This client is from Mindanao zone, he invested many units ready mix batching plant in Philippines such as Cebu, Davao etc. Because of the ready mix concrete price Philippines is becoming higher and higher. He decided to invest a new big capacity ready mix concrete batch plant for sale concrete in Davao city. It will be a big scale RMC plant in Davao, Philippines to supply concrete at 120m³/h.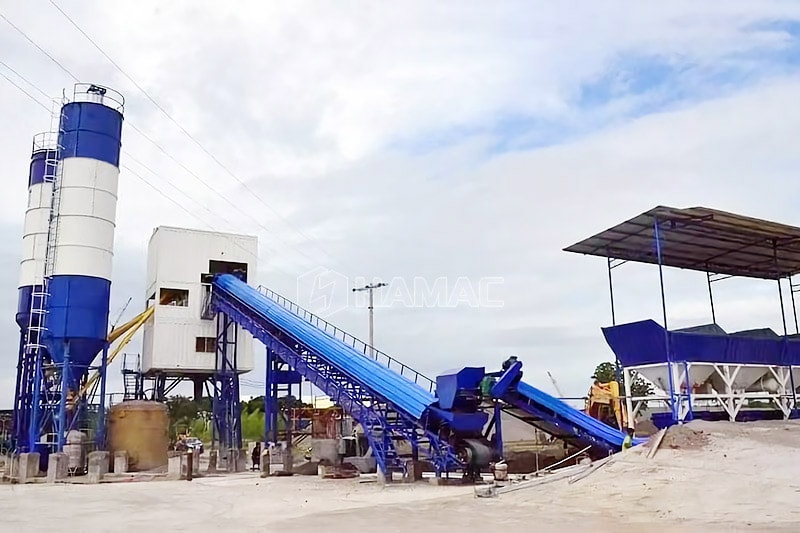 Ready mix concrete plant in Philippines
| | |
| --- | --- |
| HZS120 Concrete batching plant | Nominal capacity 120m3/h |
| Model of concrete mixer | SICOMA MAO2000 |
| Motor power of concrete mixer | 37kW*2 |
| Mixing cycle time | 60s |
| Nominal capacity of concrete mixer | 2000L |
| Maximum aggregate size | 80mm |
| Volume of cement silo | 4× 100T |
| Volume of storage hopper of batching machine | 4× 20m3 |
| Discharging height | 4m |
| Area occupation | 50*20m |
Drum type concrete mixer or twin shaft concrete mixer?
Generally speaking, there are two types concrete mixer machine for sale in the market. One is drum type cement mixer, one is batch type concrete mixer such as twin shaft concrete mixer and planetary concrete mixer.
The drum type concrete mixer's working principle is that mixing the concrete by Self-falling gravity; there no other device to mix the concrete forcibly. The concrete batch mixer, its working principle is to mix the concrete by its force.
There are mixing arms, paddles in the tank of concrete mixer. So, the result is concrete from the batch type concrete mixer is better than the concrete from drum type concrete mixer.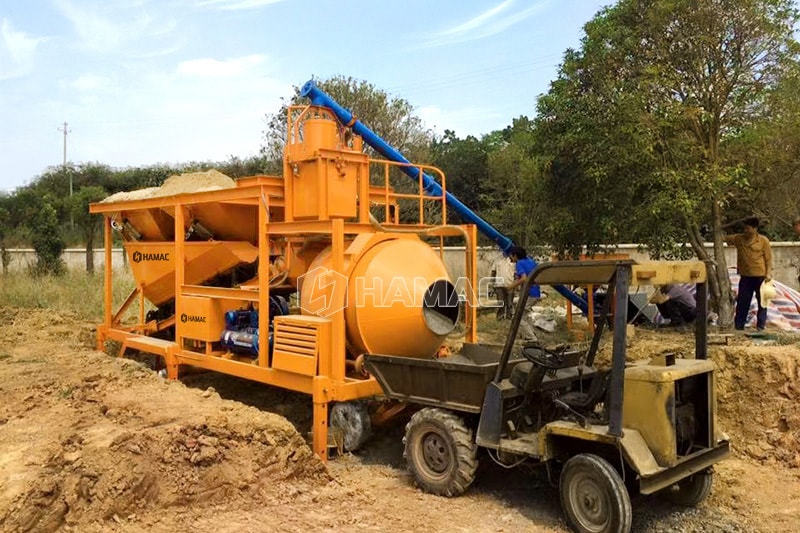 ready mix concrete platn with drum type mxier
If your project require high quality concrete, the concrete from ready mix concrete batch plantwill be better. So, the twin shaft concrete mixer, planetary concrete mixer is the most popular concrete mixer for the commercial ready mix concrete batching plant in bulacan.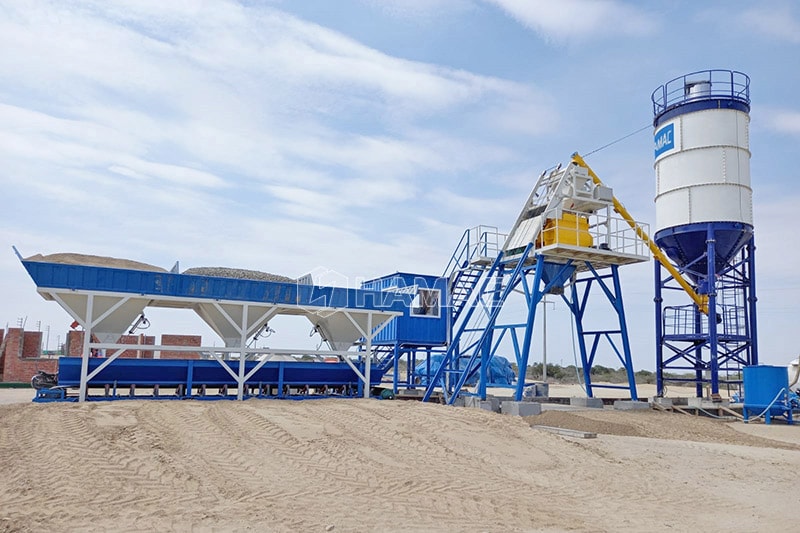 batching plant Philippines with twin shaft concrete mixer
Other equipment that needs to be considered for the owner Of commercial concrete batching plant
When you want to invest on a commercial concrete manufacturing plant,it is not only to sell the concrete to the end users, you have to consider the dditional service to make the end user to be comfortable, to solve all their possible problems. Let us see what will be the other equipment.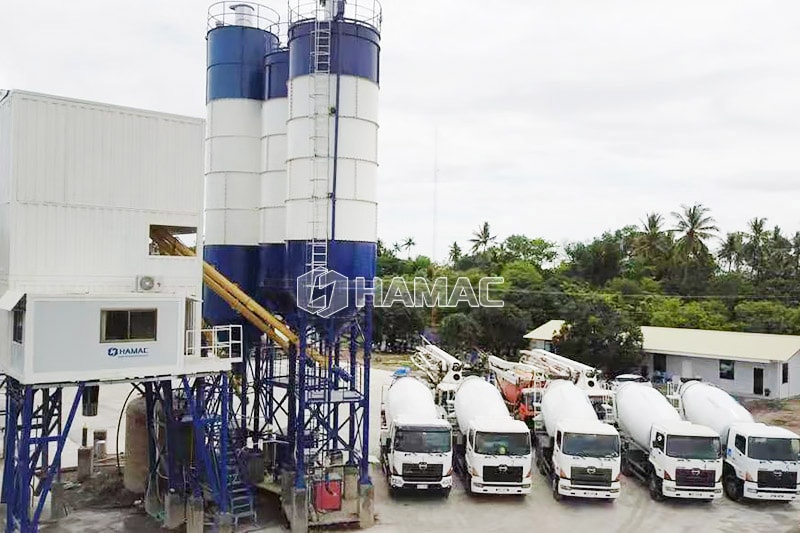 Mixer tuck and pumpcrete truck in the batching plant cebu
1. Mixer truck, it is a device to transit the ready mix concrete from the batching plant to the working site. At least, you have to buy the concrete mixer truck for helping the client to transit the concrete. The quantity is depended on the capacity of the concrete batching plant;
2. Pumpcrete truck, some clients will buy the concrete for their high building and they have not the device to pump it. Then you can provide this pumping service together with concrete selling. It will highly increase the possibility for the end user to choose the one who can provide the concrete pumping machine service as well.
3. stationary pumpcrete Philippines, it is suitable for a long-term project, just put the stationary pumpcrete machine there, and pouring the concrete according to requirement.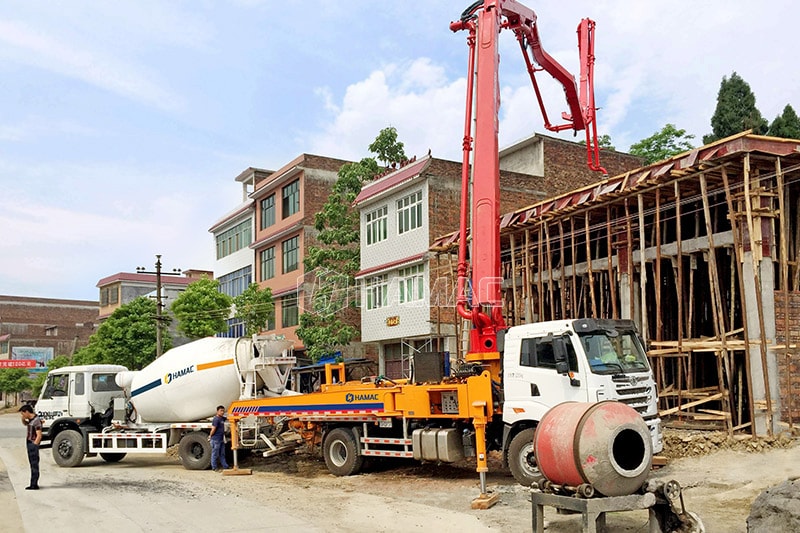 Pumpcrete truck works together with truck mixer
According to our experience, most of the ready mix concrete supplier Philippines provide the above service. You can add the cost into the concrete price for sale.
How to operate concrete batching plant to save cost?
The concrete batching plant for saleis a complicated system, and only the concrete batch plant itself will occupy a lot of costs. At the same time, there are a large number of ready mix concrete suppliers in the batching plant company list, which virtually increases the market competitiveness.
The cost control of concrete batching plants is essential, and it is necessary to save and reduce costs as much as possible in every link, so as to promote the development and growth of the batching plant.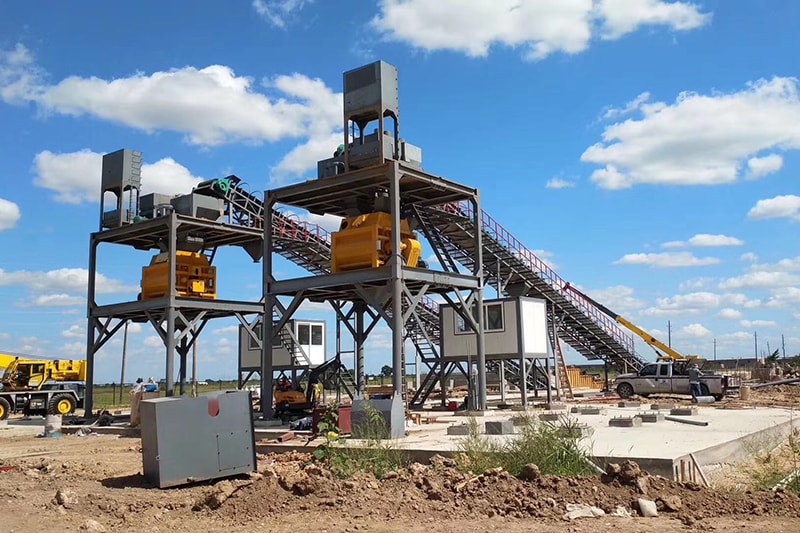 two units parallel mixing plant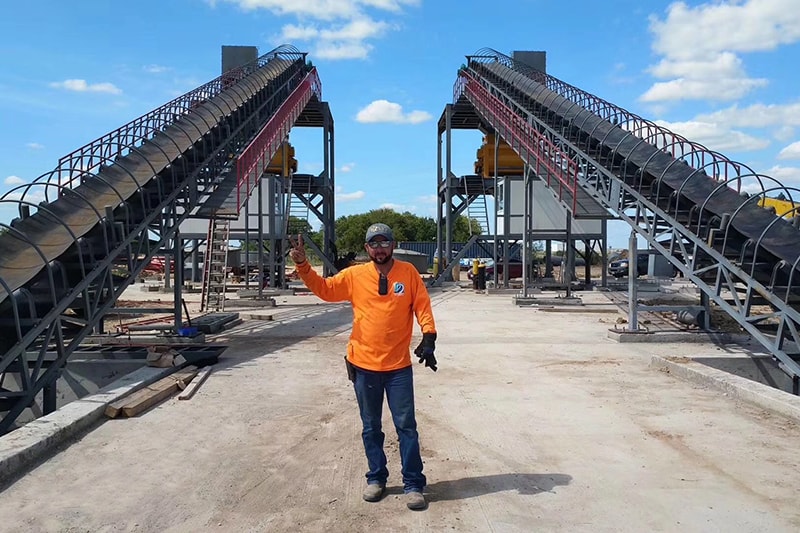 Ready mix concrete supplier at his site
1. The concrete batch mix plant should do regular protection and maintenance operations, timely inspection, and timely maintenance, and repair the concrete batching plant spare parts in time to reduce the loss of the batching plant and prevent the concrete bath plant from being unable to perform normal production operations. This expense is to save more money on repairs. This small expense will save big expense in the future;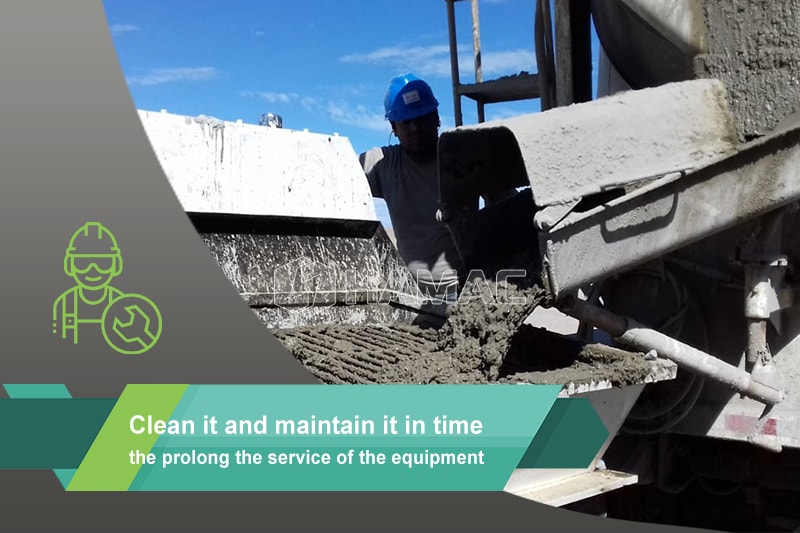 2. Save the cost on raw material consumption and recycle. Especially for the big scale commercial concrete mixing plant, too much aggregates, sand, cement and additive will be used. There must be a waste of these raw materials in the operation. So, you have to consider to use the raw material effectively, and try to recycle the concrete which is left in the truck mixer for sale;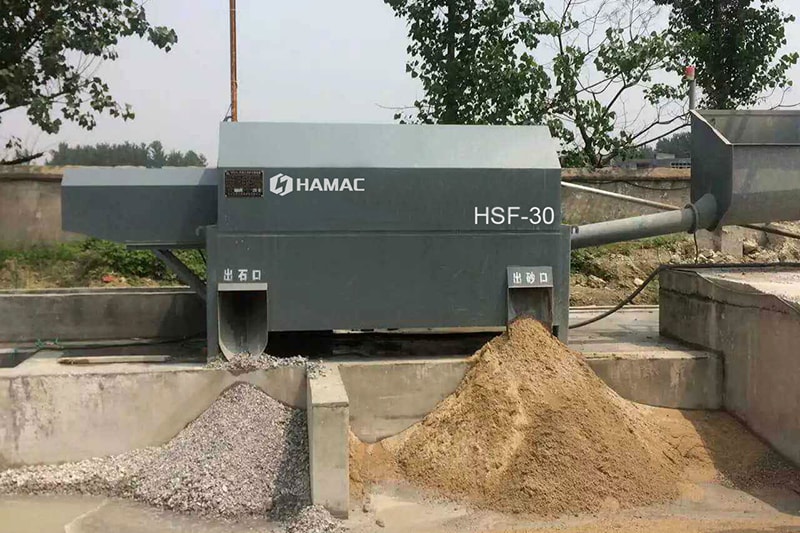 Aggregate and sand recycle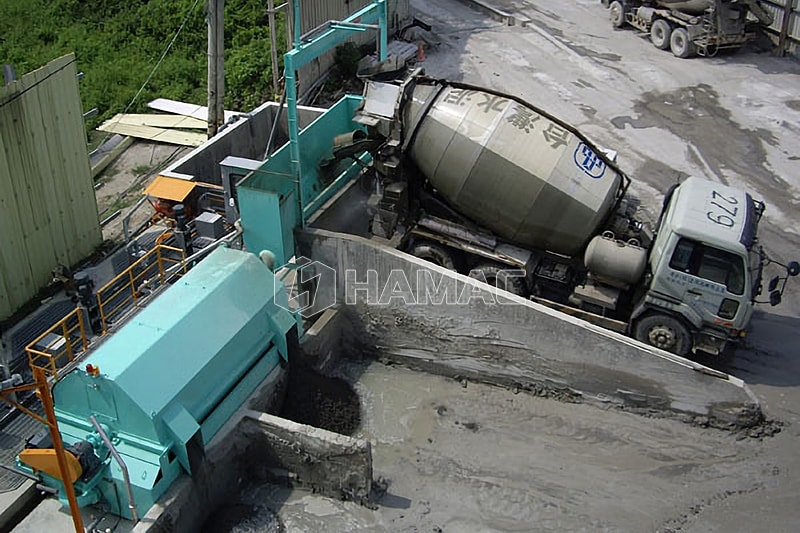 Concrete reclaimer for batching plant
3. Save the water and electricity. Water is the most basic production factor in the production of ready mixed concrete, and electricity is the most important production factor in the production of ready mixed concrete for sale. A production mechanism for recycling water in the mixing plant should be established, and at the same time, the use of electricity in the mixing plant should be monitored and controlled, such as when the wet batch concrete plant is not in use. The power supply should be disconnected to reduce power loss when the batching equipment is in standby.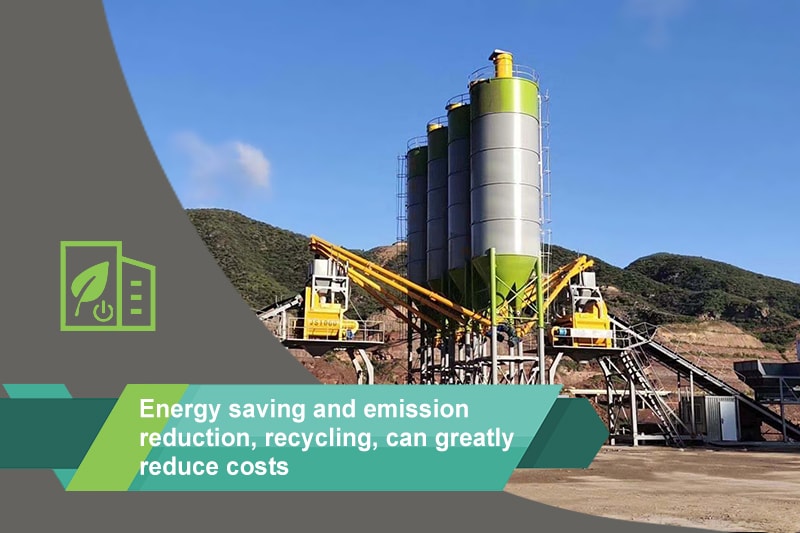 Interpretation of the model of concrete batching plant
Concrete batching plant is a kind of concrete mixing equipment. The specifications of the batching plant are named according to its nominal capacity. For example: HZS120, its theoretical capacity is 120 cubic meters per hour.Common specifications of concrete batch mix plant are: HZS25, HZS35, HZS50, HZS60, HZS75, HZS90, HZS120, HZS150, HZS180, HZS240, etc.
HZS120 wet concrete batch plant in Cebu
HZ means concrete batching plant, S means it is equipped with twin shaft concrete mixer, the numbers means its nominal capacity.
We take HZS120 as an example,
H Z S 120
H - concrete
Z - batching plant
S - the cement mixer for this plant is twin shaft concrete mixer;
120 - Means one unit of 2m³ concrete mixer, its nominal capacity is 2m³ per batch, it can produce 60 batches per hour, so its total capacity is 2*60=120 m³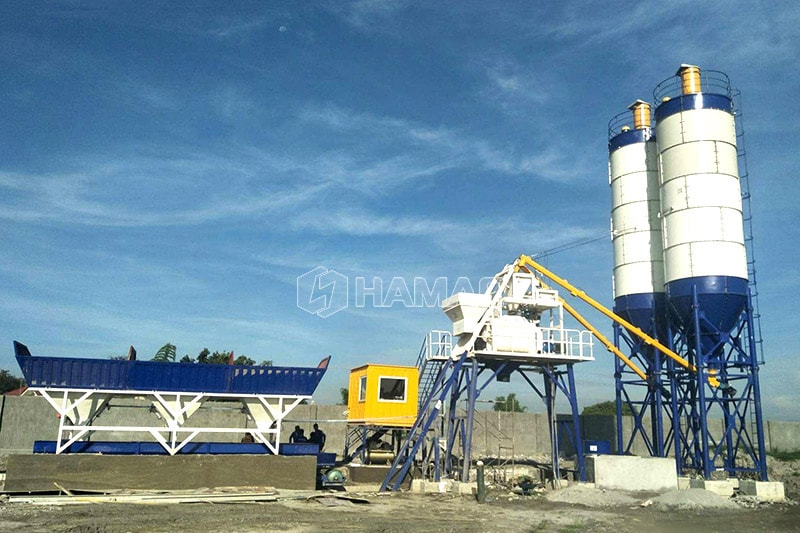 HZS50 concrete plant with cement mixer machine
But, actually, it is impossible for the concrete batching plant to work under so ideal working condition. That means, its real capacity can not reach so high. So, you have to consider a higher capacity batching plant for sale if you want the actual capacity is 120 m³.
How to calculate the concrete price Philippines?
If you know well about how batching plant works, you can see this basis price calculation method as below,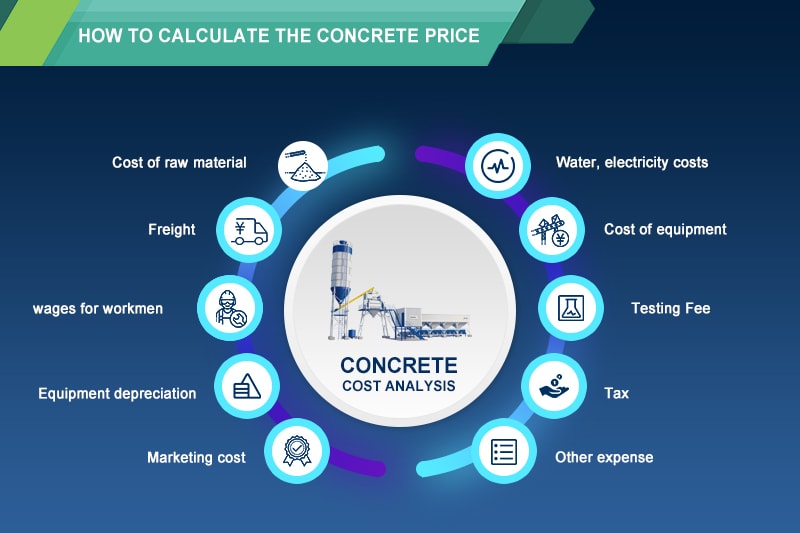 1. Cost of raw material

Cement, sand, aggregate, fly ash, additive, for these materials, you can calculate it according to the mixing ratio;

2. Freight

It is mainly the fuel consumption of various vehicles, mainly including the cost of mixer trucks, pumpcrete trucks, loading trucks, etc., which can generally be calculated through statistics.

3. Concrete batch plant operator salary

Batching plant operator salary is an important part of the cost of concrete. Generally speaking, the total salary is fixed. The larger the amount of concrete in the company, the lower the cost of concrete allocated to one party, and vice versa.Concrete trucker mixer of RMC batching plant

4. Equipment depreciation.

What needs to be considered is the depreciation period. For example, if the boss decides to recover the cost in 5 years, it is the total equipment/estimated output in five years, which is the depreciation cost of the equipment in each cubic meter concrete.

5. Marketing cost.

Marketing expenses include all expenses incurred by the marketing department during the sale of commercial concrete (catering, entertainment, rebates, etc.)

6. Water, electricity and communication costs.

Water, electricity, and communication expenses include the water, electricity, communication, and forklift fuel expenses incurred during the concrete production process, as well as during the life and work of employees in the company, which are relatively fixed. The comprehensive consumption is 1.8kW•h/m3, and the water consumption is 190kg/m³.BIGBAG cement feeder for concrete batching plant cement silo

7. Cost of spare parts for all the equipments.

For example, pumpcrete truck pipes, S valves, diesel oil, machine oil, air filters, oil filters etc. For the concrete mixer truck, they have the same cost on these parts. Meanwhile, the liner plate of cement mixer, mixing arm, etc.

8. Testing Fee.

Mainly the annual inspection cost of concrete batching plant, weighbridge and laboratory equipment, and the inspection cost of testing station;

9. Tax.

This is you have to pay according to the annual sales amount;

10. Other expense.

Including office consumables (all kinds of paper, pens, batteries, correction fluid...), network fees, GPS fees, ERP fees...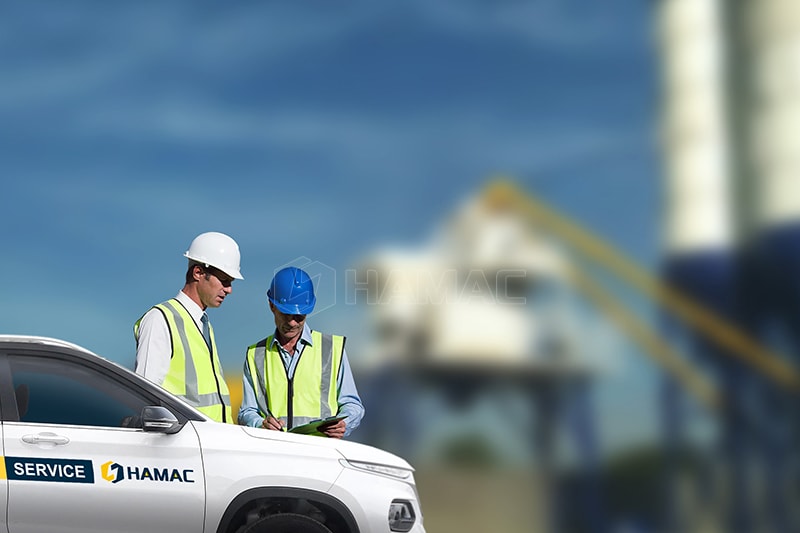 Reliable service of HAMAC concrete batch plants
Hope the above cost checklist of concrete batching plant can help to you to get an estimated price of concrete for sale.
If you need more support. Please contact our HAMAC expert for more accurate information.
There is no lowest price, only lower price. You get what you pay for. We hope you are looking for the perfect working performance of the equipment, not the low-priced inferior goods. HAMAC only provide our clients with high quality machines. Wish a cooperation with you in the future.